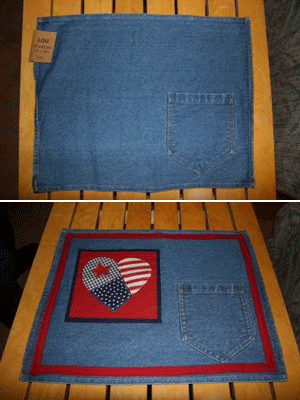 Approximate Time: one hour
Supplies:
scrap material
sewing machine
Instructions:
Either buy or cut out material to hem to 15x19 inch. Sew a denim pocket or something just as pretty to the placemat. Start embellishing!
By Tedebear from San Jose, CA
Feedback Forum
Feedback about this article is posted here. Want to contribute? Click above to post feedback.

By Paula [14]08/09/2008
About 10 years ago our ladies church group made this type of place mat to give as doorprizes at our luncheon; they were a huge hit. We used recycled denim jeans to make the placemats and cut off the pockets from the jeans to apply to the mat. If your sewing machine won't sew the thick fabric, I would suggest using a fabric glue to glue them down.

By Ziggee08/08/2008
that is such a neat idea. Good job.

Zig

By Susan08/07/2008
What a great idea! I am making a wedding gift for a friend who has moved from our area and I wanted to create something useful but with a Western flavor. These placemats will be perfect and I plan to make napkins out of "bandanna" fabric. Thanks for the idea.
Post Feedback
Add your voice to the conversation. Click here to share feedback.