One of the staple craft projects for Valentine's Day is making a card box. This is a guide about Valentine's box ideas.
Read and rate the best solutions below by giving them a "thumbs up".
Give a "thumbs up" to the solution that worked the best! Do you have a better solution? Click here to share it!
I was wondering if anyone had any great creative Valentine box ideas? Pictures are great too to see the box. Thanks.
By Anne from Kansas City, MO
AnswerWas this interesting? Yes No
Ad
---
---
Most Recent Answer
By momofthreeboys 02/04/20120 people found this helpful
You can do anything with crumpled newspaper and masking tape. My second grader wanted an alligator, after watching his brother a few years earlier make a shark. If they can draw they can sculpt and it is fun to see what they come up with.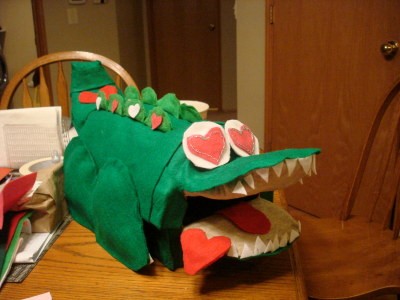 ---
I'm looking for ideas for creative Valentine's Day shoe box designs for children's Valentine cards. I have a variety of fabrics and trim; ribbon etc., and I am looking for inspirations!
Thanks,
Thiah
---
RE: Valentine's Shoe Box Designs
One year in grade school, I had a Valentine's box decorated as a radio. The tuner was the slot. (02/06/2005)
By calnorth
RE: Valentine's Shoe Box Designs
Last year when my daughter was in 2nd grade we made a washing machine. We just made it out of a box and wrapped it in construction paper. We used candy hearts for the buttons. We even had one of her baby socks hanging out of the lid. She won for most creative. (02/11/2005)
By jb
RE: Valentine's Shoe Box Designs
Use the box and make it look like a love bug by giving it heart shaped eyes and nose, heart shaped antennas and feet. Or you could turn it into a dog using hearts for the ears, eyes, nose, feet and tail. (02/02/2006)
By Tammy Crawford
RE: Valentine's Shoe Box Designs
Use the box as a field of flowers. Cut up tissue paper into little squares. Put glue all over the top of the box. Take a pencil's eraser and stick the tissue paper on it while you are squeezing the tissue paper. Then, one by one, stick them on to make a design. (02/09/2007)
By unknown
RE: Valentine's Shoe Box Designs
Thanks, the help was great. When my son was in second grade, we made a log cabin out of cardboard and peeled it off. We also painted it brown. (02/10/2007)
By Babs
RE: Valentine's Shoe Box Designs
My sister made a dragon. (02/10/2007)
By sully
RE: Valentine's Shoe Box Designs
I made a box and covered it in tin foil. (02/12/2007)
By Little one
RE: Valentine's Shoe Box Designs
My sister once made a cardboard box with beach-like theme. She used crushed graham crackers for the sand. You could have dolls running on the beach. (02/14/2008)
By Kristen
RE: Valentine's Shoe Box Designs
Last year my son and I made a snowman valentine's box. We got three different size boxes and covered them in white paper, put a scarf around the neck, a tall black hat made of foam, buttons for features, a carrot for a nose etc. The valentine's were put in the top of the hat. The kids all loved it! (01/28/2009)
By krista
RE: Valentine's Shoe Box Designs
I'm going to do a chocolate themed box, so it will look like a Hershey's bar and have chocolates glued on. (02/07/2009)
By Elise
RE: Valentine's Shoe Box Designs
I made a cake one year. We went to hobby lobby, got 3 circle boxes, one big one medium, and one small. We cut holes in the med. and big ones and a slit in the top, and then stuck hearts all over it and then took a red boa and put it around the lids of each tier. I won most creative. (01/20/2010)
By mvwmvw