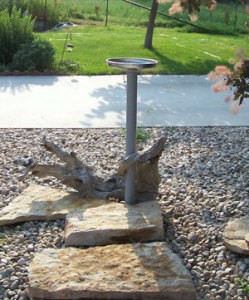 This is my "Hippy Birdbath". I made it out of a PVC pipe and a hub cap. I used a glue, "Glue All", to put them together. It took a day to dry. Then I placed it in my rocks. The birds love it.


By Donita
Ad
---
Feedback Forum
Feedback about this article is posted here. Want to contribute? Click above to post feedback.

By donita [23]07/09/2009
Hey Donita, I'm gonna try to make one, it doesn't look hard, its very neat, send me some more good ideas of yours, cause they are very neat. Thanks, Donita.

By donita [23]07/08/2009
Hello Donita; this is Donita as well. I remember emailing you before on here, how are you? Weather here in Missouri is gonna be pretty hot this week in the 90's so I'm gonna stay cool. Hey this idea is so cute. Do you know how to make the whirlygigs, used with the pfc? I'd love to have a few of these. I'd order one of these birdbaths from you if you could do me one, also if you make other things I might buy some. Please let me know, I'm no good with this stiff. Well gotta go for now. Hope to hear back from you, Take care, Donita from Missouri.

By Donna [27]04/16/2009
This a fantastic idea. I am going to make a few since we have lots of room to add them! Birds will love them!
Thanks!

By JoAnn01/04/2008
Love your hub cab birdbath and would love to post on my site for my crafty gardeners.
E-mail me at jogebczyk@yahoo.com and I will send you the site so you can see if you would give me permission to use your picture. Would love to have you join also.
JoAnn

By eskimo curlew (Guest Post)08/26/2007
We had something like that only ours sat on the ground. The birds would either bathe or drink from it.

By Dawne (Guest Post)07/28/2007
Darling! I especially love the driftwood accent you used.

By susan [5]07/28/2007
I absolutely love that you made this from things you had lying around. And it's so simple, yet looks great and gets the job done. If the hub cap gets too hot for the birds, just put a rock or piece of tree branch in the bath for the birds to perch on. They'll know instinctively what it's there for.

By Pattie (Guest Post)07/28/2007
Love your creation!! My husband is recycling an old direct-tv dish by spray painting it and attaching it to an old pine tree, nice shade, too.

By Annie Rios Hill [12]07/27/2007
what a great idea.

By vbquotes (Guest Post)07/27/2007
My only suggestion would be to keep in out of direct sunlight, since the hubcap, being metal, could become quite hot from the sun, and that could be dangerous for the feathered visitors. The water could become hot, too. The photos make me want to create a few of my own!

By Sharon L Martin, Canada (Guest Post)07/26/2007
Your bird bath is sooo cool. I am going to try one in my yard here in Nova Scotia!!!!!
Post Feedback
Add your voice to the conversation. Click here to share feedback.