Cleaning a Birdbath
Solutions
Share on ThriftyFunThis guide contains the following solutions. Have something to add? Please share your solution!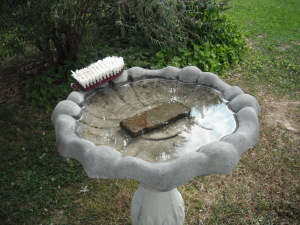 I change the water in our birdbath every 3-4 days. To keep moss from building up in the bowl, I brush the bowl good and then tip it up and slosh the dirty water out. Using the hose, I spray the remaining dirty water out and fill it with fresh water. To have the brush handy, I keep it on top of the hose reel.
We've had this birdbath for about 10 years and this is my first year keeping it clean with the brush and it is working very well.
By littergitter from NC
Questions
Ask a QuestionHere are the questions asked by community members. Read on to see the answers provided by the ThriftyFun community or ask a new question.
I have a birdbath that I love, but due to some other circumstances, it's been sitting in the garden, dirty and attracting nothing, but flies, I'll bet. I thought bleach would work, but someone told me that even the tiniest bit of bleach can hurt animals. Does anyone have a nice and healthy way to clean a bird bath? I love to see them and miss their little bird bodies bathing!
By metroplex from Houston, TX
Answers
June 18, 2010
0

found this helpful
I think a little bleach is fine, as you will be rinsing it out and the bleach evaporates anyway. Just keep a scrub brush handy. I hide one behind some plants, and keep it brushed every few days.
June 22, 2010
0

found this helpful
I wouldn't use the bleach, I don't think. For my birdbath, I just keep a brush handy that's made for cleaning barbecue grills and this does the trick. I change and refill the water sometimes several times a day in hot weather and depending on how many customers I have bathing, etc. I scrub the bath out every other day or so, whenever it needs it. It's really pretty easy to keep clean if you stay on it and the birds just love it so much. :-)
June 22, 2010
0

found this helpful
I was told to use one of the laundry spot removers like Oxyclean or something similar. This product is mostly hydrogen peroxide and will not harm the birds if used properly.
Add the oxyclean and water to the bath, let it set for a few minutes, making sure no birds drink while the solution does its work. Then rinse well and refill.
June 23, 2010
0

found this helpful
Hello,
Please go to Birds and Blooms.com. That is a wonderful site that can answer all or any of your questions. Good luck.
June 23, 2010
0

found this helpful
If it is really dirty,j ust scrub with hot water and a little dish soap. Just be sure to rinse very well. You can also soak with white vinegar and water. That will kill algae and will not harm wild life. I use white vinegar to clean my hummingbird and oriole feeders, too.
Answer

this Question

...
July 28, 2011
0

found this helpful
What do you use to clean a bird bath? This is a bare concrete, shallow bird bath with a 12 inch circle of rust colored, slimy gook on it.
Baking soda? Salt? Vinegar? I just want to make sure it will rinse all the way off and not have any danger of hurting the wild critters.
Thank you!
By Jane
Answers
July 28, 2011
0

found this helpful
Elbow grease will be your best tool. Soak the red stuff a bit in plain water if the bath has dried, then use a good strong scrub brush to scrub it loose. (It is a form of algae.) Rinse well, and scrub again, if necessary. If you can empty and refill the bath daily, or even every other day, you can stay ahead of the algae; and the birds will appreciate the fresh water!
July 29, 2011
0

found this helpful
I clean mine with clorox and a scrub brush and rinse it well with the hose.
July 29, 2011
0

found this helpful
I put sand in the bird bath and use a scrub brush.
August 1, 2011
0

found this helpful
I soak my birdbath in a 10% bleach solution for an hour or 2 then scrub with a stiff brush and rinse thoroughly. I also spray it to refill and clean it out whenever I have the hose out to water my plants.
Sometimes a couple of copper pennies placed in the bottom will help to deter or slow the algae growth.
Answer

this Question

...
I have a cement bird bath that has black stains on the bottom. What can I use to clean this?
By Carol M.
Answers
October 1, 2011
0

found this helpful
Try using baking soda to scour the black stains, the rinse well. This will not be harmful to the birds.
Answer

this Question

...
I have a large 3-piece birdbath in the backyard. It has been there for several years and needs cleaning. It has mildew or mold all over it. It is made of cement and antiqued with a light grey color over the original white. I would like to clean it without damaging the concrete or original paint. Any suggestions?
By Mary Watson from Cocoa, FL
Answers
April 17, 2010
0

found this helpful
Clean the birdbath thoroughly with white vinegar and a scrub brush or scrub it with a 50/50 mixture of bleach and water. If you own a pressure washer, you can make quick work of cleaning your birdbath with very little effort. If you use bleach or vinegar, make sure to rinse the birdbath completely, removing all of the cleaning residue. Let the birdbath dry completely. Good luck.
Answer

this Question

...
Photos
Share on ThriftyFunCheck out these photos. Click at right to share your own photo in this guide.
I have a lot of bird baths and most of them are made from cement and stone. They are very heavy and my biggest pet peeve about them is that they sit in the sun and they turn green with algae.
I have tried the drops you put in the water to keep it clear but it gets really expensive to use them. I have tried putting pennies in the bottom of the bird baths but I'd need about $75.00 worth of pennies to cover the bottom of my largest bird bath so that's not happening either. I had heard that the copper keeps the algae at bay.
When I scrub out the bird bath, which I have to do often, then I have to tilt the bath part on it's side to drain out the dirty water. This is problematic because the bath itself weighs more than I can handle lifting or tilting and it's a dangerous situation all around for me. If I drop it, it will be history.
One day it occurred to me that if I got large serving dishes or platters etc., I could put them inside of the bath portion of my bird baths. When it comes time to clean them, it's a snap to just pour out the water, lift out the platter and just wash it up! For the most part, I have found cute and colorful large dishes to place inside my bird baths. In the instance of my largest bird bath, I put the lightweight bird bath dish that I use in the winter inside the cement bird bath. Since it is extremely lightweight, cleaning is a snap! In this photo, I also put a colorful smaller bowl in the center and some of the smaller birds like to land on that for their drink or bathing!
These two ravens come just about every day for drinks in my bird baths, this large bath is their favorite! Sometimes they bring food they have been fortunate enough to find to my bird bath. They will drop the food into the bath (one day it was a large bagel) and let it soak and then eat it in several bites. Believe it or not, the other birds still hang out in the yard even though these large black ravens are "huge" and seem rather scary to the casual observer! I think they are quite amazing!
By Jeanasina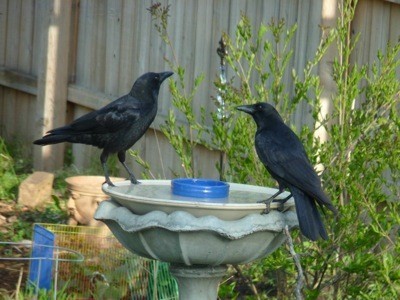 Related Content