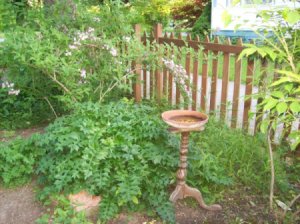 If you enjoy watching a robin splash about in a birdbath and want to help our feathered friends to a cool drink during these hot summer and fall days, you don't have to spend a fortune on fancy, high-priced garden store models.
Keep and eye open for the bases at garage and estate sales, even thrift stores, then get creative with the bowl portion of your birdbath.
Keep in mind, it's good to offer differing depths of water in the bowls for various sizes of birds. At my house, the robins like something deep and they can empty it in a day with all their vigorous splashing. While the timid chickadees and goldfinches prefer something shallow.
The kitchen is one of my favorite places to find birdbath bowls. Some good choices are pie plates, casserole dishes, and serving bowls. The saucers for underneath terra-cotta pots is another great idea. I've even used a up-turned light fixture.
You can get creative with the base, too. I've used an old stand for a vintage ash tray (garage sale), a large table leg (salvaged), and tree stumps.
Hope this kick starts your creative juices, the birds will thank you. And you'll receive hours of enjoyment watching them.