Looking for Simple Baby Quilt Pattern
Can someone please give me directions to make a simple baby quilt? I am also looking for toys made from cloth. I need a special gift for my soon to come niece. Thanks and god bless.
Debra from Hampton, TN
By Deb816
Answers: Looking for Simple Baby Quilt Pattern
Read answers for this question below.
Look for directions on how to make a rag quilt. They are super easy, I make tons of these and sell them at craft shows and on ebay. I have sold a fairly complicated one for $90, this is a super easy and quick way to make a quilt.

The attached photo is of a white on white diagonal set rag quilt made with a premium 600 thread count sheet from Ross, I think it was about $12, and for the back I used a microfleece blankie also from Ross for about $6. I sold this quilt for $85 it was about 36x45 inches. I cut identical squares of the blanket and sheet, think I used 7x7 inches for this one. Sandwich layers of sheet and blanket together so now you have one layer of each. Sew an x across each square Place two sandwiches blanket side together, I like to use the sheet side for the top and use the blanket for the back. Sew using big stitches and about a 3/4 inch seam allowance or greater. You're going to make about a 6 square long ribbon of these squares, then clip the seam allowances to make a fuzzy fluff. This is going to be the front side of your quilt eventually. If you want to offset them you've got to do some math, it goes 1 square, three squares, five squares, etc, once you have gotten up to your widest point, reverse the count. You leave one hanging off the end as you sew the strips together. It is easier to do the edge fringe and the edge seam on these offsets if you do the end squares by themselves before you sew the strips together. As you sew each strip together, clip the seams. It will keep the quilt from becoming very stiff as you work with it. If the offset way is too hard you can just sew them all together in a square pattern which looks pretty too.
All you need is sharp scissors and a good machine to do this. It is very messy with the blanket fuzz but you get a really pretty finished project good for a boy or a girl.

Ok, you finished sewing all the strips together, now you have a square quilt. Sew around the edges of the quilt about an inch or 1 1/2 inches from the edge. Go around twice, about 1/4 inch or if you can do double needles use that for your border seam. Snip the border at about 1/4 inch intervals or smaller. Be careful not to clip the threads on the border.

Wash this in cold water, then toss it in the dryer. Be sure to change the lint trap out right away. I then take these outside and shake them, it's going to look like it's snowing. This is a mess but again, a really awesome finished project and not a lot of $. It is very beautiful boutique-y and expensive looking and luxurious to touch! Good luck!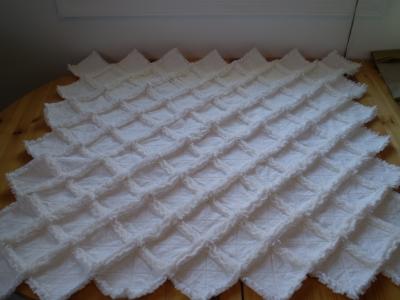 For a quick, but useful baby toy try this. My girlfriend made this and my babies absolutely loved them as did I.
Materials-
Cotton Fabric
Plastic grocery bags (that crinkle)
Thread
Sewing Machine
Directions-
Pick a shape for your toy. I use a gingerbread man with ears to make a teddy bear shape. You can just make squares like my friend did. It should be around 5" long or as long as you like. It needs to be able to be held by baby hands
Cut out 2 shapes on material. Cut out 2 - 4 layers of plastic bag in that shape also.
Pin all layers together. Be careful because they slip.
With your machine, zig zag the outside edges over and over until you have a finished edge.

The great thing about this toy is that it is light and easy for baby to hold. They cannot choke for there are no removeable parts. The stitching helps with teething. It crinkles when grasped. It can get washed over and over again.

I hope this helps.
I've made Baby Quilts using 9 to 12 cute 22"x22" cotton bandanas (matching or same). Cut hems and sew together for top side, inside batting use rolled cotton, and a matching cotton print for other side. I like to sew 1" wide ribbon in center of each square where I tie baby toys. Work can be done by machine, hand, or both... I use both.
Kathie
Not a quilt, but you can get pretty baby printed fleece and sew or tie two pieces together.
Or you could buy cloth with baby prints and sew them together with batting and another piece of cloth.
Hi, Go to your search bar and type in "free baby quilt patterns." You will find some very good and simple ones most likely. Good luck. Connie in Nebraska
Answer This Question
Add your voice to the conversation. Click here to answer this question.
Related Guides
Related Posts