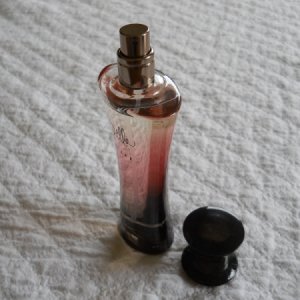 Occasionally the spray nozzle on your perfume bottle gets clogged or simply stuck. This is a guide about repairing a perfume spray nozzle.
Solutions
Share a solution today!
Questions
Here are questions related to Repairing A Perfume Spray Nozzle.
Can I buy a spray nozzle for my 4oz Polo screw top cologne bottle?
By John
Where can you buy those little sprayers for women's perfume, to replace the ones that broke or were missing off your perfume?
By Donna from Oakdale, CA
I dropped an expensive perfume bottle on the floor and the nozzle sprayer jammed. Now it will not spray and I cannot get the perfume out. Any ideas on how to get my perfume out? And when I do how do I transfer it in another bottle I have that is empty?
By Denise
---
Most Recent Answer

By mgl120005/16/2012
@ 1_Princess_Aurora I used your method but it did not work. Can you share your another idea? Thanks
How do you remove the spray nozzles on perfume bottles. I'd like to transfer the perfume into smaller bottles. I heard it could be done but I just forgot how. I'm having a hard time spraying the fragrances into the bottles and the funnel that I have seems to be too big for the hole of the atomizer.

Charmaine from Philippines
---
Most Recent Answer

By Karen (Guest Post)01/26/2009
This doesn't answer your question, but in agreement with Hanuka. I had 3 spray bottles of cologne on my dresser top. One day I realized that there were three circles embedded into the wood of my dresser. Apparently through evaporation, or after spraying their was enough of the cologne left on the bottles to run down onto the dresser top. Now I always put my cologne bottles in a pretty shallow bowl before setting them on the dresser top.
My brand new spray perfumed bottle won't spray anymore. What to do? How can I unblock it? Can't take it back, it was a gift from a faraway country.
Nancy from Québec City
---
Most Recent Answer

By carla bledsoe (Guest Post)08/30/2006
have you seen those perfume bottles with an atomizer like in the old movies? you can still get those at perfume counters and some gift stores. if the perfume is worth the time and trouble i'd try to pry off the top or even break it off and pour the perfume into an atomizer and then use it. good luck. i've had that happen to me too and it is frustrating to say the least.
I have some perfume that won't spray. I have cleaned the nozzles but still cannot get them to spray. Anyone have any tips to help they would be greatly appreciated. Thanks in advance.

Bobbi
---
Most Recent Answer

By Carol W.03/23/2012
I emailed customer service about a bottle I dropped. I broke the valve. They sent a new bottle ($80) and I was thrilled. Needless to say I sent a very complimentary and grateful email back. Sometimes it really works to speak up.
Archives
Thrifty Fun has been around so long that many of our pages have been reset several times. Archives are older versions of the page and the feedback that was provided then.
Remember that spray nozzles can be interchangeable. So, if you lose one, as so often happens, know that you can switch with another of the same size - Just wash them out thoroughly between switching from one to the other. (You might also want to save old spray mechanisms for spray bottles of cleaner, etc. - as the trigger sprays have a tendency to wear out after a while.)
By Pam from L.A., CA
---
RE: Replacing Spray Nozzles
Excellent idea. I started saving spray nozzles and triggers a few months ago. It's great for when you buy a NEW product, and the nozzle doesn't work properly, or spray in a manner that you would prefer. (04/20/2006)
By Ree 127