May 8, 2010
3

found this helpful
I've purchased several spray bottles from Wal-Mart, only to quickly become frustrated. They don't make them like they used to! I have one that's probably 15 years old, and it still works great, but these newer ones get jammed up.
So I started buying my spray bottles from the beauty supply store (I go to Sally's). They cost more, but work MUCH better. I haven't replaced all the cheap (junk) bottles, but I'm getting there . . .
May 10, 2010
3

found this helpful
I started getting my spray bottles at Walmart in the dept. where they have ironing boards & such. It's called "Green Machine", has a green label & says it's an ironing spray bottle. It's made out of old water bottles. I've had one for nearly 3 years now & it's still going strong-cheap price too!
September 27, 2013
6

found this helpful
Today I opened a brand new bottle of Prada perfume and it wouldn't spray so I tried several things and was thinking I would just throw it away since it had been a year since I purchased it. I then thought why not try one more thing and that fixed it!
I took the cap off to expose the tubing for the pump and stuck a safety pin down in the tubing. I assume any pin would work, but this did the trick. I have a functioning spray bottle now and saved throwing the expensive bottle of scent away. Love it when I win!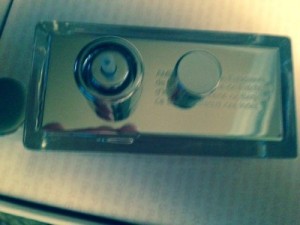 November 19, 2015
0

found this helpful
Yeh. Can't believe the answer was so simple. Mine was a Prada bottle too. Think there must be something wrong with their design but now it's up and functioning. Thanks.
November 22, 2015
1

found this helpful
Thanks for this! I had the exact same problem with the exact same perfume. :)
January 22, 2016
1

found this helpful
This just saved half of a bottle of Prada for me too! Same bottle!! Thank you sooooooooooo much!!!
April 13, 2016
1

found this helpful
I also have a bottle of PRADA and I tried your suggestion. It worked! You have to push the pin (I used a large safety pin) down all the way ~ I could actually hear when it 'broke through' where it was stuck.
I have read this perfume bottle gets stuck quite often. Now I know how to fix it! Thanks!
April 21, 2017
0

found this helpful
Hi.
Just had the same issue with my prada. Came across this and it worked! Thank you
December 14, 2017
0

found this helpful
This totally worked for me thanks for the tip blondirose
February 16, 2018
0

found this helpful
Thx blondirose & Anon for this tip/info ; I also had the same issue w/the same Prada perfume. Im so happy that I dont have to shell out the $ for a new bottle when mine was still more than half full!
November 10, 2018
0

found this helpful
I haven't been able to use my same prada perfume because of this problem. I did what you said and it worked. Thank you for your post.
December 16, 2015
1

found this helpful
Can I just say thanks to the person who posted the prada perfume. I have the exact same perfume and exactly the same problem. I was really surprised when I saw that the same perfume had the same issue.
However, I tried what you did and it worked?!?!? Amazing thank you so much for posting! Otherwise I too would have never sorted it out and it would have sat there for ages not being used