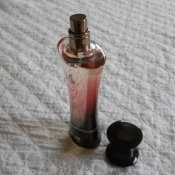 Is there a simple method to get a plastic spray bottle working properly? Or, in the alternative, is there a certain type or brand name plastic spray bottle which is reliable?
In the past, I have used old spray bottles that once contained brand name cleaners; sometimes they work, usually they fail after a while. Recently I bought a brand new empty spray bottle from Walgreens. It has a spring in the trigger mechanism. However, my anticipation turned to disappointment when it stopped spraying; there is nothing visibly clogging it.
Any thoughts?
By Tracy Leonard from Kansas City, MO
Answers

May 8, 2010
3

found this helpful
I've purchased several spray bottles from Wal-Mart, only to quickly become frustrated. They don't make them like they used to! I have one that's probably 15 years old, and it still works great, but these newer ones get jammed up.
So I started buying my spray bottles from the beauty supply store (I go to Sally's). They cost more, but work MUCH better. I haven't replaced all the cheap (junk) bottles, but I'm getting there . . .

May 10, 2010
3

found this helpful
I started getting my spray bottles at Walmart in the dept. where they have ironing boards & such. It's called "Green Machine", has a green label & says it's an ironing spray bottle.
It's made out of old water bottles. I've had one for nearly 3 years now & it's still going strong-cheap price too!

Maryeileen
Bronze Request Medal for All Time! 59 Requests
May 13, 2010
0

found this helpful
I would take it back to Walgreens for a new one. I've never had a problem exchanging anything there.
Read More

Answers

I dropped an expensive perfume bottle on the floor and the nozzle sprayer jammed. Now it will not spray and I cannot get the perfume out. Any ideas on how to get my perfume out? And when I do how do I transfer it in another bottle I have that is empty?
By denise
Answers

October 16, 2009
1

found this helpful
Remove everything off the top so that you can see the tube that goes into the bottle then try sticking a small straightened paper clip in the top of the tube until you hit something solid. There is a spring and ball in there that you may be able to knock loose. If this does not work let me know, I have another idea.

October 18, 2009
0

found this helpful
As a last resort, you could put the bottle in a Ziploc bag, seal it and then break the bottle. Then you could take a medicine dropper and transfer the perfume into the other bottle.
Good luck!

November 10, 2009
0

found this helpful
I had two fragrance bottles that had stuck sprayers and I used 1_PRINCESS_AURORA'S idea and it worked for both of them. Thanks
Read More

Answers
I have some perfume that won't spray. I have cleaned the nozzles but still cannot get them to spray. Anyone have any tips to help they would be greatly appreciated. Thanks in advance.
Bobbi
Answers
By veronica (Guest Post)
August 4, 2005
0

found this helpful
This happened to me a few months ago. I returned the perfume to the shop, asking for their help in solving the problem. They replaced the half full bottle with a brand new one!!

pam munro
Gold Post Medal for All Time! 519 Posts
March 17, 2006
0

found this helpful
If you have a bottle with just dregs in it, you can take off the spray top & "milk" what's left of the spraying mechanism by pushing it against a hard surface, so it dribbles out - (I have used the dregs to add to my bath water to beef up my bubble bath.) I wish they made cologne/perfume bottle they way they used to with removable screw tops! I have a lovely spray bottle I got over 20 years ago I still refill with my cologne. It seems such a shame to have to toss those pretty bottles.
By peggygv (Guest Post)
March 19, 2006
0

found this helpful
Same thing happened to me as Veronica posted. Most times no matter how long you've had it companies will make good on your purchase.
By lidylou (Guest Post)
October 3, 2008
0

found this helpful
Thanks for that guys I will see if I can get it replaced, as it cost me so much.

March 23, 2012
0

found this helpful
I emailed customer service about a bottle I dropped. I broke the valve. They sent a new bottle ($80) and I was thrilled.
Needless to say I sent a very complimentary and grateful email back. Sometimes it really works to speak up.
Read More

Answers

My brand new spray perfumed bottle won't spray anymore. What to do? How can I unblock it? Can't take it back, it was a gift from a faraway country.
Nancy from Québec City
Answers

August 29, 2006
0

found this helpful
Try running some hot water over the nozzle of the spray area. Worked for me. Hope this helps.
By CHRISTINE L IN. (Guest Post)
August 29, 2006
0

found this helpful
wash the nozzle real good & then blow in it.Hope this helps.
By carla bledsoe (Guest Post)
August 30, 2006
0

found this helpful
have you seen those perfume bottles with an atomizer like in the old movies? you can still get those at perfume counters and some gift stores. if the perfume is worth the time and trouble i'd try to pry off the top or even break it off and pour the perfume into an atomizer and then use it.
good luck. i've had that happen to me too and it is frustrating to say the least.
Read More

Answers
How do you remove the spray nozzles on perfume bottles. I'd like to transfer the perfume into smaller bottles. I heard it could be done but I just forgot how. I'm having a hard time spraying the fragrances into the bottles and the funnel that I have seems to be too big for the hole of the atomizer.
Charmaine from Philippines
Answers
By Sharon (Guest Post)
September 9, 2006
0

found this helpful
Are you also wanting to remove the top of the perfume bottle?...I would like to know the method for removing the metal top of the bottle... where the "sprayer" fits into...
By Theresa (Guest Post)
October 6, 2007
0

found this helpful
I got the top and nozzle off of an older, discontinued Mary Kay Premonition bottle with a butter knife and Cutco scissors. I had to cut the plastic casing off and then used the sciessors (as pliers) to work the metal nozzle cap off.

January 26, 2009
0

found this helpful
Girls!
A bottle of perfume with spray nozzles is consumed faster than the perfume from a bottle with stopper, even if you do not use it. You can try to see. Once you have used ,the perfume, put a sign and let a little perfume bottle a week or two to see how the drops perfume so without touching.
Perfume is evaporated without you realize. I almost got mad at my sister several years ago when I saw that disappeared from my perfume bottle. Then I read and I found that it always happens to spray bottles nozzles!
So I would advise you to buy perfumes in bottles with a stopper!
By Karen (Guest Post)
January 26, 2009
0

found this helpful
This doesn't answer your question, but in agreement with Hanuka. I had 3 spray bottles of cologne on my dresser top. One day I realized that there were three circles embedded into the wood of my dresser. Apparently through evaporation, or after spraying their was enough of the cologne left on the bottles to run down onto the dresser top. Now I always put my cologne bottles in a pretty shallow bowl before setting them on the dresser top.
Answer

this Question