Getting the Last Drop of Spray Cleaner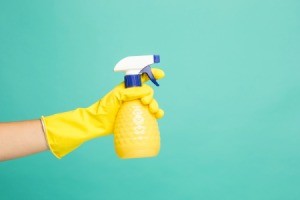 Thrifty minded consumers do not like to waste that last bit of cleaner at the bottom of the spray bottle. Try adding a marble or some glass crafts gems to raise the level. You can also transfer the remainder to a much smaller spray bottle. This is a guide about
getting the last drop of spray cleaner
.
Solutions
Share on ThriftyFunThis guide contains the following solutions. Have something to add? Please share your solution!
When the product in a spray bottle is to the point where it won't spray out but there is too much to throw away, drop a marble in the bottle. It will raise the water level and allow spray until completely gone.
By Janette
When using a spray bottle and getting down to the bottom and you cant get the remaining product out. Just drop a marble in the bottle. You will be able to get out every last drop of the product through the sprayer.

By Janette from Parkersburg,WV
Comments
August 30, 2008
0

found this helpful
Top Comment
You're really smart & I feel really dumb. I have had this frustration for 56 years of housekeeping and this never occured to me. Most of the tips I've been doing for many years (like turning remotes over), but this is really the best.
Thanks you, Liz
April 25, 2005
0

found this helpful
I have a small 2 oz squirt bottle that I got as a free sample in the mail, it originally held cleaner. Now when I have a small amount of cleaner left in a large bottle, I pour it into my 2 oz bottle so that I don't waste a drop and I can use all of my cleaner!
By Crystal Allen
Comments
April 25, 2005
0

found this helpful
Top Comment
To ensure you get to use all the product in a nearly empty spray bottle, drop a couple of marbles, like the flat glass kind for decorating, into the spray bottle. This will raise the level of the liquid inside to meet the tube attached to the sprayer.
By truerblue
March 27, 2017
1

found this helpful
When one of my spray cleaners is running low and barely able to spray out of the nozzle, I like to use this little trick in order to ensure I get the last drop. I take about a handful of glass gems and/or marbles and place them in the spray bottle. This causes the cleaner to rise up, and therefore makes it easier to reach the spray tube/nozzle.
Related Content