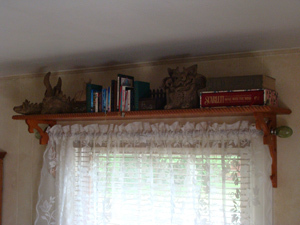 Some time ago someone posted an idea to use shelves over windows. I had commented that I did the same thing only I used wooden door gingerbread trim to make the side brackets so that I could hang my curtain rods through them. Someone contacted me and asked me to post a picture. I used basic wooden shelving and trimmed the edges with rope molding.
By Lynn from Albany, NY
Ad
---
Feedback Forum
Feedback about this article is posted here. Want to contribute? Click above to post feedback.

By pammie4701/01/2014
This is a wonderful idea for me to work on. Am renting an old place and taken down all their curtains and frills hence leaving the top ledgers around. Now I can dress it up and add some of my stored away treasures. Thank you for the tip.



By Gayle06/26/2009
Years ago I made cornice boards which were about 6 inches from the ceiling. At Christmas I would put garlands, fake apples and lights on top of them. They looked wonderful and added a great festive touch to the livingroom. Shelves are a great idea for a country look! Nice idea.

By Teresa Tart [1]06/26/2009
Do your all think 2 shelves over double windows would look good? I have 2 sets of double windows and a single window. Would it look good to have shelves over all the windows or would that be to much?

By BrendaSue06/26/2009
Your idea is not only cute but so functional! Using the gingerbread trim is a real bonus and incorporating the curtain rod into it is very clever. Kudos for your ingenuity!

By Allison06/26/2009
I think this is a great idea if you have decorative things to store that you don't need to get to-- books, etc. I'm all for using all that vertical space.
Post Feedback
Add your voice to the conversation. Click here to share feedback.
Archives
Thrifty Fun has been around so long that many of our pages have been reset several times. Archives are older versions of the page and the feedback that was provided then.
***
Create Display Shelves Above Windows
*** I had collected many tin containers and had no place to display them. We decided to put small shelves over the windows in the guest bedroom to serve as display shelves. It also frames the windows and makes them look a little more substantial. We then mounted the valance inside the window frame. This gives you some added shelf space if you have limited space.
By Susan from Mulberry, FL
---
RE: Create Display Shelves Above Windows
Very nice idea! Thanks. (02/03/2009)
By Dibbs
RE: Create Display Shelves Above Windows
Great idea! My husband is going to kill me when I tell him I need these! Thanks for the post! (02/03/2009)
By marisa0407
RE: Create Display Shelves Above Windows
I love your idea! I had thought about doing the same over my patio doors in my kitchen, I NEVER have enough display space! Maybe I just have too much to display! LOL! (02/03/2009)
By Jawga
RE: Create Display Shelves Above Windows
I did the same thing, only for the "brackets" I used decorative gingerbread for the corners of a wooden screen door so that I could put my decorative curtain rod-pole through them. I have wooden blinds and lace valances. Around the edge of the shelving we put decorative wooden trim that looks like rope. They look great and the best part is that you can make these custom to fit any size window. (02/04/2009)
By Lynn
RE: Create Display Shelves Above Windows
Using the gingerbread sounds good Lynn. There are so many different ways to do these shelves above the windows to make them just the way you want. Have fun, it's a really easy project. (02/05/2009)
By Susie
RE: Create Display Shelves Above Windows
Now there's a fresh idea, I like that! (02/05/2009)
By kimhis