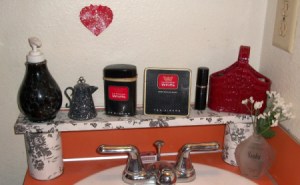 Although I only have only a few examples to show you, I will share my many "cheap or free" ideas for building shelves. The first thing you need to determine is: Do you own or rent? If you rent, I would not put a lot of holes in the walls. That said, here are some of the things I have done.
Low Cost Shelving Materials
Closet or laundry room doors that are sold at hardware stores are a good shelf for things like books in the back and perhaps a collection in the front. They are generally 18" wide, so that is a good width.
Using a light weight milk crate under each actually gives you more space, adding a "campy" look to the decor. If what you plan to store on the shelves is heavy, these doors are hollow core, so you may need to upgrade to boards. I prefer pine, as it's attractive and light. Press board is extremely heavy, and if it gets wet, it returns to sawdust. It's also very hard to paint. This is good for shops or garages, but inside the home it's not all that pretty.
Low Cost Shelving Supports
Supports can be anything from crates to Popcorn tins, cinder blocks, to smaller wallpaper covered tin cans. I have made a very nice glass shelf unit inside a window's sill using glass jars filled with colored water and other things. Thinking unique and inexpensive and the possibilities open up all over the place.
If the shelves need to be inside a closet, then metal brackets work great, as you don't have room to spare for supports underneath. If you think you will need to move the shelves at any time, I suggest you don't screw the boards to the top of the bracket, especially if there is no room for them to fall.
Put Brackets on Top
I once built shelving around the top of my living room for my snail collection. When you are decorating and you don't want ugly brackets showing, simply screw the brackets to the boards, then flip them over and screw the brackets to the wall so they are on the top. Your collection will then cover them for a nice, clean look.
Once, I had a bathroom and bedroom door so close together that a triangle shelf sat on them perfectly, needing only one 1" bracket on each of the 90 degree sides to secure them.
Wal-mart Shelving
If you are disabled like me, I tend to choose things that are not only light weight, but can be broken down easy. Then you want the Plano white ones that are about 15.00 at Walmart. I love these because if I have to customize them, I can hacksaw the support poles and make a shelf shorter. I also once customized a unit to house my plants, collection and the occasional cat.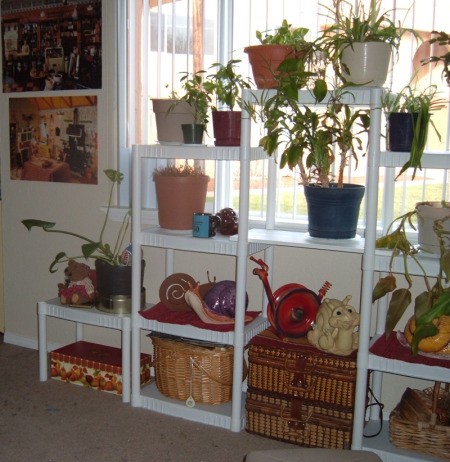 Be Creative
Keep in mind that if you think "outside the shelf" you can put things up using unique things like shadow boxes from the Dollar Tree, old wooden dresser drawers, open lunch boxes, etc. I once didn't have any thing to put my teddy collection up with, so I put a bow on each one of their necks and tacked them to the wall. Now that is a shot I wish I had!
Source: I have lived so far off the cuff it's not funny, so I have a lot of things that are make shift but have served me well. These are just some.
By Sandi/Poor But Proud from Salem , OR
Read More

Comments