Gabby (Pembroke Welsh Corgi)
This is my loveable but very spoiled (as you can see) Gabby of Glasgow. She's a 5 yr old Pembroke Welsh Corgi and loveable as she can be. She thinks she's a queen.....which to us, she is :-)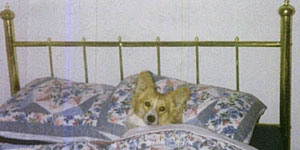 May no soldier go unloved,
May no soldier walk alone
May no soldier be forgotten
Until they ALL come home

-Diana
Feedback
Read feedback for this post below. Click here to post feedback.

By
07/22/2005
Are you sure it is the same dog? Please write to us in the contact form so we can find out why the picture was entered in the photo contest if it was not submitted by the owner.
Susan from ThriftyFun

By
02/20/2005
what a pretty face!!!
As the daughter of a WWII Veteran and the wife
of a Disabled GULF WAR Veteran and both NAVY
I thought your words touching....may everyone
read that and our prayers be felt be each
loved one afar !
Post Feedback
Add your voice to the conversation.