Breed Description:
Cardigan Welsh Corgis are long, low-set little dogs with a wide skull and fox-like head. They have large erect ears and an acute sense of hearing. Cardigan Welsh Corgis are sturdy and powerful, and are easily distinguished from the Pemboke Welsh Corgi by their "fox's" brush tail.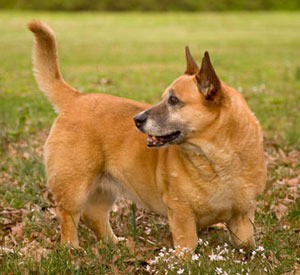 Group: Herding
Purpose of Breed: Herding or droving cattle
Country of Origin: Wales
Average Size: Dogs 10-13 inches and 25-30 pounds, bitches 10-13 inches and 25-30 pounds.
Color(s): Red, sable and brindle, black and tan and blue-merle (black and gray; marbled).
Coat Type: This breed has a weather resistant, medium length, dense double coat.
Grooming: The Cardigan Welsh Corgi's coat sheds twice per year. It is easy to maintain and will repel dirt with regular brushings. This breed requires standard care for eyes, ears, pads and nails.
Exercise Needs: This breed will do well living in an apartment, but is active by nature and enjoys long regular walks to maintain mental and physical health.
Temperament: Cardigan Welsh Corgis are intelligent, eager to please and easily trained. They are naturally somewhat suspicious of strangers and make excellent companions for the elderly and the disabled. This breed enjoys the company of children and enjoys the companionship of other family pets.
Common Ailments: Susceptible to glaucoma and PRA and obesity.
Life Expectancy: Averages 12-15 years. Trivia: Before farmers used fences to contain their cattle, it was the Corgi's job to nip at the heels of cattle and drive them on his master's property.
More Information: Cardigan Welsh Corgi Club of America, Inc. www.cardigancorgis.com