Netflix Instant Movies on Your Wii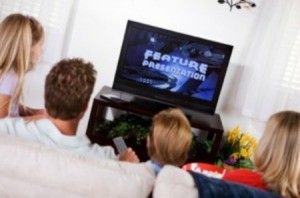 I have had a Netflix membership for several years now and I have really enjoyed it. Their system fits my lifestyle very well; no late fees, online access, etc. But the one thing that I haven't really been able to take advantage of is their streaming Instant Movies. I haven't owned a bluray (or other streaming device) so we could only watch the movies on the computer. We figured out how to attach the computer to the TV but it wasn't really worth all the hassle.
But now, anyone with a Wii that is connected to the internet can stream movies! If you have a Netflix account, just log on and request your disk.
If you haven't tried Netflix, you might consider it. I pay $8.99 a month for unlimited movies (1 at a time) and that includes unlimited streaming movies. Unlike many companies, they seem to be making their service more and more accessible. I've paid for lost disks and then found them. When I returned them, I was automatically credited. I have no complaints about their turnarounds and I have nearly always gotten any movie I wanted without a wait.
By Jess
Feedback
Read feedback for this post below. Click here to post feedback.

By
04/12/2013
Just as an update -- viewing Netflix via your Wii no longer requires a disc! You are able to simply log on to your account from your Wii!

By
06/17/2011
We are trying to find out what is needed exactly to hook up our t.v. to our comp. to watch streaming from Netflix, other than Wii and such devices, are there just cables that can be used? If so, how do I find out which ones and how to hook them up? Thanks much, sue to you

By
05/03/2010
Here is the Watch Instantly link on Netflix. They will say "Play" instead of "Add". The newest releases are not available but many newer television shows are there (Lost, for example).

http://www.netflix.com/WiHome

If it is an additional charge and you don't see movies you would like, I would stay on your own plan. I think that the Instant category will just keep growing and growing over the next few years. If you look at your queue, you will see an "Instant" tab that shows anything that you may have added to your regular queue that is also available instantly. That should tell you if the movies you are interested in are available.

By
05/02/2010
Can anyone tell me where I can find a list of the movies that are available to stream to the TV. From what I found they weren't really good movies. They were old and most I'd never heard of. I'm hoping I looked in the wrong place. I would have to change my plan and wonder if it is even worth the extra $3/month.

By
04/21/2010
For ease and entertainment, you really can't beat it, especially their streaming options. My new tv has NetFlix right on the screen, Windows Media Center has it as well, as does the Roku player and PS3, and I've enjoyed movies on all!

Laniegirl, it's not Netflix's fault you had pop up ads for their service, or that they froze your PC. Have you ever used a pop up ad blocker? It's not like they are hurting from your lack of business, so you might like to try them eventually.

By
04/21/2010
They also have instant play options for the PS3 and the XBox 360; there are also devices that you can buy at places like Best Buy to hook to you television to receive the streaming movies. They are fairly inexpensive.

By
04/21/2010
I am not a netflix subscriber because I got sick of their popup ads. Whenever I would have a popup from them, it froze my screen. I would have to reboot. So they won't be getting any of my business!

By
04/20/2010
We received a Wii for Christmas and my wife and I enjoy some of the games on it. I have been a Netflix subscriber for several years and I asked for one of the discs to play some of their movies on my TV by using the Wii. I was quite pleasantly surprised at how well it worked and it's quite easy to use. Keep in mind that your Wii MUST have an Internet connection for this to work. I doubt that dial-up would work (grin). I have my DSL connected to an Apple Airport wireless and the Wii connects just fine. Hope this is of some help to anyone thinking of this.
Post Feedback
Add your voice to the conversation.