I have 4 cats. They got along famously until I bought a kitten 4 months ago. All of them are used to her now accept one who is really annoyed, as she is constantly chasing him, so he spits and loudly hisses. He has been fixed, as are all the others and my new kitten was fixed two weeks ago.
Today I noticed he sprayed urine, so I am assuming he is really stressed. I had a spare bottle of Feliway and have it plugged in. It has worked within 24 hours in the past, but will it work for this?
Thanks.
By Joan from Toronto, Ontario
We are giving away $200 in Amazon gift cards for people who answer questions on ThriftyFun in February! Click here to find out more...
Add your voice! Click below to answer. ThriftyFun is powered by your wisdom!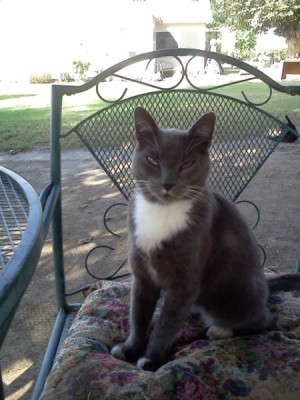 I have a male 12 year old neutered cat (Stewart) that occasionally sprays. Now this is not a new behavior, but because of this problem, he has had to be an outside cat. I occasionally let him in and as long as I keep an eye on him he's fine. He loves to get on my lap and also sleep on my bed. I would love him to be able to do that without watching him constantly. I am moving soon and will be staying with family. I would like to take Stewart with me and not have to leave him here even temporarily as he is older, very spoiled, won't understand, and will probably feel abandoned.
So, now that I've said all that, my dilemma: is there anything I can give him (natural remedy) that is safe, that will keep him from spraying my friend's house as he will have to stay inside?

By cshell
September 26, 2011
0

found this helpful
I've read about a product called Feliway that is supposed to help cats calm down so spraying isn't a problem. I believe it's available at some of the pet big box stores. I've never used it for my critters but I know people who have.
September 26, 2011
0

found this helpful
Stewart is adorable. I wish I knew of a way to stop cats from spraying. I would be cleaning up a lot less messes. I do use Feliway. It will stop cats from spraying to some degree, and it does calm them. My cat will not spray where I have recently sprayed the feliway. Could you keep Stewart in a confined area at the new place? They are less likely to spray in a confined area. Perhaps a bedroom and bathroom, so he will be with you part of the time. Good luck with your move...
September 26, 2011
0

found this helpful
I have a 12 year old male cat who was beating up my other cats and spraying as well as peeing in shoes. My vet put him on Clomicalm, and he is back to being the sweetheart that he used to be. The vet said he has an age related ulcer. Take your cat to the vet. Clomicalm has worked wonders for my baby.
October 6, 2011
0

found this helpful
He is a handsome cat! I have a vet who practices traditional and holistic medicine. She gives my male cat a tincture made with apple cider vinegar and the primary ingrediant to stop the spraying. I do not know what the ingrediant is. He sprays to mark his territory, as I have 3 cats total. There was a time, when he sprayed because he tested positive for a urinary tract infection (UTI). You may just want to make sure he does not have a UTI, as this can lead to bladder disease.
September 3, 2015
0

found this helpful
I bought Feliway diffuser at a ridiculous expensive price, it didn't do anything to help. I bought a Sentry cat calming collar... no help.
Clomicalm works. Its brilliant but the cat has to be checked by the vet first.
November 28, 2015
0

found this helpful
What is the holistic tincture that you have? That would be so helpful for me. I have a 11 pound Savannah male that's 8 months recently neutered and still sprays.
October 1, 2010
0

found this helpful
I own two domestic cats and last year picked up an injured feral kitten. He has lived quite happily with us for over year and comes into the house, but we cannot get close to him (he had a bad experience with humans).
Recently another tom cat has been visiting my patio and eating the cat food. This is not a problem in itself, but the feral cat who for obvious reasons has never been neutered has now started spraying the house.

I don't want to do anything to discourage my other two cats from coming into the house; I just need a solution to deter the spraying. Please help, my house stinks and I am spending a fortune on Febreze.

By Jane from Malaga, Spain
Answers:
Getting a Cat to Stop Spraying
You are going to have to get proactive with your little guys. I know catching them will be hard, but it is not impossible. You can use live traps that are either purchased or homemade. Neutering is a must in your situation. Not doing so makes it impossible to even start with your trouble. When handling a feral cat, immobilizing the feet by wrapping them snugly in a towel will help in getting them in and out of the carrier. Your vet and his techs are well trained in dealing with feral animals.

Be certain the cat box(es) are very clean. You may need to use two or more with multiple cats, especially males. While they are at the vet for neutering, you can take the opportunity to use a good neutralizer on all the spots that have been sprayed. Do not use any cleaners with ammonia inn them as this will attract the cats to the very same spots. Best wishes! I know you are trying hard to make a great home for them. (01/08/2010)

January 8, 2010
0

found this helpful
How can I stop my cat from spraying around the house? He's a 4 year old tabby and he's never done this before. It's embarrassing to walk in with company and the house smells like a skunk, gross smell. I've found several of his spots and I clean it up and bleach it, just to find that he's sprayed another spot. Thankfully he hasn't done it on the carpet. He's even gone on some shoes and some clothes. It's getting really annoying not to mention costly. I hope someone can help me with this. My thanks in advance.

Rosa from Las Vegas, NV
Answers:
Getting a Cat to Stop Spraying
Get your cat neutered. That's the best way to prevent spraying. (01/12/2009)
Getting a Cat to Stop Spraying
First just in case, make sure his litter box is cleaned to the nines. Secondly, make sure his litter is constantly cleared of waste. As soon as he's done his bit, remove it. Have you brought in a new pet recently? If so, he could be showing signs of marking his territory. If not, he might be showing signs of boredom. It's hard to say. I have 3 cats, and only had the occasional spray issue. Usually its when I have visited somewhere there's been a cat, and they pick up the scent when I come home. Then I have had the surprise spray, usually on my footwear.

There is a product called "Right Away" by Professor Amos, that you can order on line, and it removes all traces of the odour. It works like a charm. Good luck. (01/14/2009)

By hedera
Getting a Cat to Stop Spraying
Neutered cats will spray. I have three male cats all of whom are fixed. The two older ones will spray sometimes if there is tension between them. Neutering is no guarantee they will stop spraying, but you should have your cat neutered if it's not already. (01/14/2009)

By virraszto
Getting a Cat to Stop Spraying
I started reading a book called "The Cat Who Cried for Help" by Nicholas Dodman. I found it at my local library or here's the link to Amazon.com (http://www.amazon.com/Cat-Who-Cried-Help-Psychology/dp/0553378546).

Although?tag=thrif06-20 I never had this problem with my cats, I found his stories and information about spraying to be very interesting. One thing that stuck out to me was that sometimes when a cat sprays on a person or person's items, it is trying to "mark" you. Anyway, check out the book for try to do a search online for more information about this book. Good luck. (01/16/2009)

By khilde80