Where in Wal-mart or any other store can you find the cleaning pumice stone for cleaning your toliet ring?

Donna from TX
By Donna
Ad
---
Recent Answers
Here are the recent answer to this question.

12/06/2012
Walmart: where the Drain-O, etc is shelved.
Some pool supply stores
Stores that carry BBQ/camping equipment
Hardware stores

By Shirley01/10/2010
Hi, these pumice stones are also known as scouring sticks. I had a hard time finding them myself but with lots of scouring the web I finally found them on Amazon.com

By CindyM56 (Guest Post)02/07/2009
WalMart has them. Not easy to find but they are there! Go to the cleanser section or ask an employee to help you look.

By chris ann (Guest Post)12/24/2007
Our factory named Guangzhou Baifen Personal Care Products Limited Company, are a Chinese professional pumice sponge supplier (pumice stone factory and buffing pad manufacturer), which also can be used as foot brush or household cleaning. we engaged in exporting such foot care tool and would like to expand to foot spa items and pedicure scope.
As a pumice sponge/ Pumice stone factory, we focused two- year energy on R&D. Such a signal focus endows us top quality, competitive price, Profuse colors, series of designs and flexible pumice OEM. Maybe We bare to say we are a leading Pumice pad supplier in china
Hope for your interest in pedicure care and skin care scope. Welcome you finding our company (Guangzhou Baifen Personal Care Products Limited Company) through Google or yahoo. Thank you very much.



By metroplex [81]09/26/2007
I've bought a pumice stone in Walgreens or any pharmacy store where they sell foot pads, etc.

Or where they sell nail polish remover items.

Good luck!

By chris (Guest Post)09/26/2007
We are a pumice sponge/pumice stone supplier in China. We welcome you to visit our website:
http://www.gzbaifen.com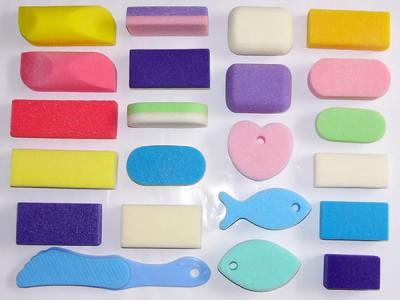 By Cris (Guest Post)08/06/2006
I found my Pumice Stick at the local hardware store (Ace is in my area)

By Mary [12]08/05/2006
I found mine in WalMart over in the makeup section where they have all the bath and beauty care products, not in the pharmacy area. Not only are pumice stones good for stubborn toilets but you can also use them on your feet to rub off the rough skin ... well, not the same stone as the one for the toilet obviously! :)

By Stephanie (Guest Post)08/05/2006
I found mine in the nail care section.

By Jackolyn Smith [15]08/04/2006
The Wal-Mart that I shop at has 'Pumice Stones' in the pharmacy area where they sell Dr. Scholl's and other foot problem products.

By Judy Harris [28]08/04/2006
I have never used one,but have seen them in those "junk mail" catalogs. I would suggest you try a hardware store like Ace. Judy

By jean. (Guest Post)08/04/2006
Try the pharmacy section, where you find the Dr. Scholls products.


By Jean (Guest Post)08/04/2006
I found one in the section where you find sponges, dish scrubbers, dishwashing detergents, etc.
Questions
Here are questions related to Where Can I Buy a Pumice Stone?.
Where can I purchase pumie stones for cleaning in the Ottawa, Ontario area
By Cheryl
---
Most Recent Answer

By Spacecase [11]04/06/2012
If you have a Home Depot or Lowe's Home Improvement store there, they carry pumice stones. Any swimming pool supply store carries pumice stones.
Answer This Question
Add your voice to the conversation. Click here to answer this question.