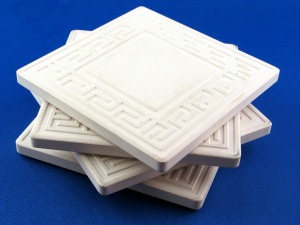 I solved the drippy coaster problem in which condensation drips all over my study materials. Why didn't I think of this sooner?
I took a piece of the cloth that is advertised to absorb ten (or maybe it's more) times its own weight in water, cut it in a circle to fit the stone coaster, and now, presto, between the cloth and the coaster, no more drips on the text books!
By Holly from Richardson, TX
Read More

Comments

Do absorbent stone coasters really absorb all that much condensation? I have some cheap rubber coasters from Target with a raised rim that catches the water (I really like them), but when I pick up the glass of iced tea, it drips on days when we have certain weather. I have to be extra careful not to drip on my textbooks.
I need to be concentrating on my studies rather than on my dripping glass! I was thinking of buying the flat stone coasters and placing one inside of the rubber coaster with the rim. What do you think?
Holly from Richardson, TX
Answers
By Rob (Guest Post)
September 9, 2008
0

found this helpful
Yes, they absolutely work and work well.
I have also used 4" marble tiles (real tumbled, uncoated marble) as coasters with adequate absorbency, albeit not quite as absorbent - but they look cool.
By MamaKayte (Guest Post)
September 10, 2008
0

found this helpful
another thing you can do is put your glass in a sock. It sounds silly, but it absorbs the condensated water AND helps keep the contents cold a little longer... no more dripping glass!
By misty (Guest Post)
October 8, 2008
0

found this helpful
I have the thirsty stone coasters. Cost about 20 dollars for 4. They do seem to work for a while but mine seem to need replaced.
They do scrub up well though. Good value for the money. I think I have had mine for about 4 years.
By DONNA (Guest Post)
November 17, 2008
0

found this helpful
We reuse the styrofoam cups from Dunk n Donuts. The medium size is great for putting your glass in. No more condensation and it keeps your drinks cold.

November 30, 2008
0

found this helpful
I have two sets of this type of stone coasters and they work great and I am glad someone says they can be scrubbed because we always use them for sodas or ice tea and they are dirty. They will crack if thrown by grandkids however. Your glasses do not drip when picked up.

December 1, 2008
0

found this helpful
At work, they have stone coasters that are decorated with what looks like a thickly painted decal. Sounds cheap, but these are very expensive. I noticed yesterday that the decal is beginning to bubble up in the center on one of them (as if it were sliding). These are coasters that have a lot of heavy use probably some 5 days per week all year long.
I noticed a year ago that Wal-Mart had some stone coasters that are unpainted (but still cork backed) - possibly this is the way to go.
Answer

this Question

I need instructions on how to make coasters from stone tiles. I want stone tiles so they will soak up the moisture from the glasses. I plan on decorating the tiles with a decorative stamp (ink stamp). Do I put them in the oven? Do I need some kind of sealer on top?
By NanaMay from Mulhall, OK
Answers

January 7, 2010
0

found this helpful
Things You'll Need:
4"x4" slate, limestone or marble tiles, or ceramic tiles in a similar size
Penetrating sealer (if using stone tiles)
Felt or rubber pads, such as those used to quiet cabinet doors
Step 1 First, coat your stone tiles with the penetrating sealer, using and old rag. The sealer will enhance the color of the stone, as well as provide a protective barrier against possible stains. Let the sealer dry according the manufacturer instructions.
Step 2 Felt pads come in various sizes and colors. I used brown on these slate coasters.Next, attach the felt or rubber pads to the underside of the tile. These are self-stick, so just peel off the backing and stick them in place. For 4" tiles, I use 4 pads - one in each corner. If you are making a larger, trivet size piece, you may wish to also place a pad in the center to ensure stability.
Step 3 Now, look at your coasters and group them by color. You can either match the coasters as closely as possible, or mix the colors for an interesting set. Arrange them in groups of 4 coasters, and tie them together with a ribbon for gift-giving. Good luck.
Answer

this Question