Hairy the Cat
Hairy is about a year and a half. Hairy found us. He kept coming around our back yard and he was such a little thing that I didn't think he would survive the neighborhood strays, so we took him in. What a wonderful thing it was. He is SO happy to be here.
We call Hairy aka Harrison, Hairy-Bird or Birdie because he flies around here like a bird. He has learned to play fetch from his big "brother" Joe.
Hairy is a big baby. He also looks a lot like prince Harry.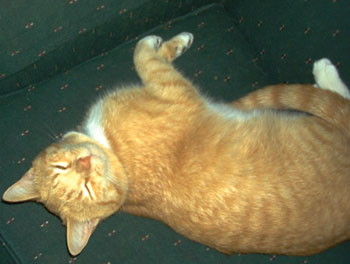 By Karen from Port Clinton OH
Feedback
Read feedback for this post below. Click here to post feedback.

By Malinda (Guest Post)
03/01/2006
He looks just like my Thomas, except Thomas weights about 30lbs. and he is 9yrs old. I, also, have 3 of sisters and brothers, which I rescued them when they were 6wks old. Cats are wonderful.

By Jan (Guest Post)
03/01/2006
He looks really sweet. I'm partial to orange cats. I have a really large orange stripped cat. They sure can be great companions and so much fun. It's amazing how much we can love them. Enjoy Harry!

By
02/28/2006
What an absolutely adorable baby! (I call my cat my baby too - isn't it funny - the are our babies! lol) He looks so soft and cuddly - he'd make anyone want to stop and give him a love!

By
02/28/2006
Karen, he is adorable. What a pretty boy he is!

Pure snugglebunny!

Jennifer
Northern Virginia

By KLS8800 (Guest Post)
02/28/2006
Aww, what a pretty baby. I just want to pick him up and cuddle him and feel his purr.
Post Feedback
Add your voice to the conversation.
Related Guides
Related Posts