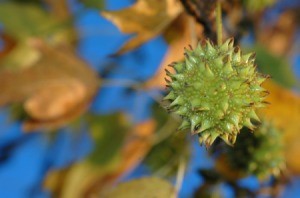 Sweetgum trees are a fall beauty with their variegated colorful leaves. However, for many homeowner's this display does not make up for the deluge of spiny seed pods that litter their yard. This is a guide about preventing a sweetgum tree from making balls.
Ad
---
Questions
Here are questions related to Preventing a Sweetgum Tree From Making Balls.
How do I get rid of gumballs?
Hardiness Zone: 6a
By Linda from IL
Ad
---
---
Most Recent Answer

By Carla Jean P.03/18/2013
I have a whole big pile of sweet gumballs inback of my shed here in Springfield, Missouri. Anyone that wants them is welcome to them. Just email me and I will tell you where I live. cjpage1954 AT gmail.com
How can I keep my sweet gums from making balls?
By Wyatt from Sallisaw, OK
Ad
---
---
Most Recent Answer

By Mary02/18/2011
Seriously? You navigate the frozen tundra your driveway has become for nearly 3 weeks, then nearly bust your butt on a spiney ball!
What is the capsule called you put in the drilled holes so they don't produce sweet gum balls or fruit?
By Kathy
---
Most Recent Answer

By sarahbute04/14/2015
It is called "Snipper". They come in packs of 25 and you place them every 4 inches around the base of the tree. They are $155 per pack. Too expensive for me!
How can I prevent sugar gum tree balls?
By Bob from Magnolia, TX
---
Most Recent Answer

By Jill [4]03/26/2011
About the only thing I can think of is to remove the tree. You could call your ag. extension service, but I don't know that you can prevent an existing flowering plant from making seeds. There may or may not be varieties that do not make the balls, but what you have is what you've got right now.
Solutions: Preventing a Sweetgum Tree From Making Balls
Do you have knowledge about this guide topic? Feel free to share a solution!