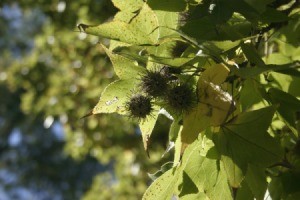 How can I kill a sweet gum tree to let it gradually die because it is too tall to cut in my yard?

Karen from Arkansas

Answers
By Beverly McConnell (Guest Post)
March 11, 2007
0

found this helpful
Best Answer
Karen,
If you can, drill a few holes in the roots or at the base of the tree. Take boiled hot water that you've added a whole box of salt to and pour into the holes. If you can't drill holes then pour hot salt boiling water around on top of the roots and around the tree. This does take alittle time to do. but by later in the season it should rot. You can also use this method on stumps that you want to get rid of. It rots them completely. Hope this helps you.
Beverly
By Badtux (Guest Post)
April 20, 2007
0

found this helpful
Best Answer
A tree removal service can remove even the tallest sweet gum trees by climbing the tree and lopping it off from the top down. The problem with killing the tree as it stands is that then the tree will fall when the next big wind blows -- probably onto your house, car, or propane tank, luck being what it is.
Answer

this Question
I just had a sweet gum cut down. It was very close to my home. I still have the root to get rid of. The bad part is some of it is under my home so we can't use a grinder. What is the fastest way to kill and remove this stump and roots?
By Leigh A.
Answers

October 12, 2011
0

found this helpful
I've heard of success by driving a huge nail or railroad spike down the center of the stump, but it takes years to accomplish the subsequent rot of the stump and root.
There are products available at plant nursery centres that hasten the decomposition, make sure you read and follow the directions carefully.

susan
Silver Feedback Medal for All Time! 472 Feedbacks
October 13, 2011
0

found this helpful
Grind the stump down as much as possible, then go to the hardware store and and buy a container of roundup for trees and bushes. Pour the roundup liberally over the remaining underground stump. The roundup will kill stump roots so no new shoots are sent up.
Over time, the roots will rot in the ground. If some shoots are sent up, make sure you spray them too. If you want, you can also buy something called "root rot" at the hardware store also. It will help the stump to deteriorate quicker.

August 7, 2018
0

found this helpful
Do NOT ever use Roundup. (This stuff has been banned in Europe for years as a cancer causing agent.) The Sweet Gum tree's roots form a wide network and the Roundup with get into the ground (and groundwater) and destroy other trees and plants as well. After the tree is down, severing a couple of the main roots will destroy what is left and make them easier to remove with equipment.

April 14, 2019
0

found this helpful
This is Oh, so totally wrong. To kill a gum tree quickly and effectively: drill three or four holes around the bottom of the tree with the 1/4 in. bit; drill at an angle pointing down towards the ground. Then carefully pour straight Roundup (18% concentration or higher) to fill the holes--you're done.
The tree will be dead in 2-3 months and it'll start showing because the leaves will turn brown and start falling. The tree is pulling water and nutrients from the ground upwards to feed itself and sustain growth--it will pull the Round Up up and it will NOT go into the ground.
July 18, 2022
0

found this helpful
Round up has been given a bad name. People who say that round up caused their cancer did not use the product well. Wear protective gloves, mask, clothing, glasses. Don't ever spray any type of herbicide into the wind.
Answer

this Question

Can I fell a sweetgum tree and uproot the stump by cutting through the roots and letting the tree's weight do the work?
By Randy from Brunswick, GA

Answers

Allison
Bronze Feedback Medal for All Time! 231 Feedbacks
April 23, 2010
0

found this helpful
I don't think that will be enough. Plus it's not very safe, as you want to guide where the tree falls. Depending on the size, you might consider calling a tree service.

January 17, 2012
0

found this helpful
I own a tree service so I have seen some pretty reckless attempts at tree felling but that would take the cake. You would have no control of the tree if and when it falls.

December 28, 2016
0

found this helpful
I have taken dozens of trees down by digging around the base and pushing it over with a small excavator. I can control the direction of the falk and get the stump out all in one shot.
I have taken down pine trees as big as 16".

October 29, 2019
0

found this helpful
The easiest way to kill a sweetgum (that is clear of anything it can damage) is to "ring" the bark about 2 to 3 inches around the base. Remove bark down to the bare wood and coat with an herbicide. In two to three months the tree will be dead. THEN cut down. Wood will be easier to cut and handle than green wood. If desired wait longer and pick up parts as they fall. The tops usually fall first and then it is easier to finally fall the "log" part.
Answer

this Question