I am looking for a manual for the Regal Breadmaker model 6750. Can anyone help?

PS - I went to the Regal Ware web site and they say they no longer offer breadmakers (among other things). I did send an email to their customer service but I don't hold out much hope of getting anything from them.

LS from OH
By LS
Ad
---
Recent Answers
Here are the recent answer to this question.

By DAL (Guest Post)12/07/2008
From their website http://www.regalware.com/en_lang/customer_service.htm

PLEASE NOTE: Several years ago Regal Ware was proud to provide an excellent line of breadmakers, food processors, and PolyPerk® coffeemakers; however, these products and related parts are no longer sold or serviced. We thank you for your patronage.


By Lisande (Guest Post)12/05/2008
A friend just gave us a Regal breadmaker without the manual. Thing is, I cannot find a model number anywhere on the darn thing.

Does anyone know where I should look for the model number?

Many thanks - you can answer me here, or at .....writerlsa @charter .net

By roger (Guest Post)11/27/2008
Does anyone know where to get parts or new pan for a 6750 breadmaker?

By CR Stitt Jr (Guest Post)09/10/2008
http://www.megaheart.com/pdf/RegalBreadmakerK6725.pdf

this manual will work with 6750

By cm (Guest Post)05/11/2008
For those of you who don't/should not have to pay for a stupid breadmaker manual, I found a site where quite a few are free. http://www.megaheart.com/breadmachine_manuals.html So for those of you who are just out to make a dollar, keep trying. I'm sure someone will pay you for something that should be free!

By Susan (Guest Post)04/02/2008
Does anyone have the user manual for model 6760l, or know where I can get it? Thanx! Anyone who has it could you post it online for all the others unable to find it as well. :)
sue.bhoney AT shaw.ca

By Bob (Guest Post)11/13/2007
I have the manual for K6750 and C6750, email to;
brooklynbob AT comcast.net

By Esther Arthur (Guest Post)07/18/2007
My plight is worse. I now live outside the country and I am unable to find my manual. When I called the 800 number I was directed to a talk-line. Can anyone help me.

By Brooklynbob @ Comcast.net (Guest Post)02/10/2007
I have a copy of the Regal Breadmaker Manual for Model K6750 and C6750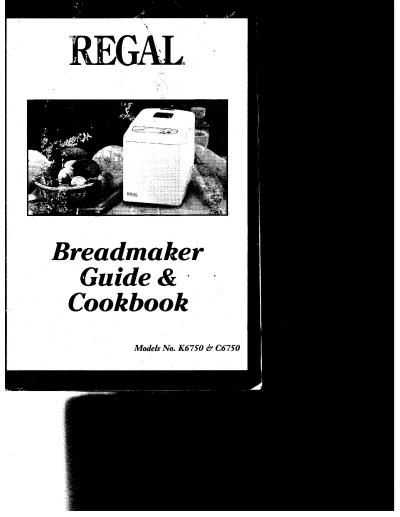 By Lee (Guest Post)01/21/2007
Hi, a few months ago I misplaced my manual and wanted to make some bread too. I got a book from the library with a lot of yummy recipes. If you know what size of bread your maker makes, you can adapt these recipes to your maker. It worked for me. Good luck!

By LS [1]01/18/2007
Well, I decided that calling Regal was a good idea (although the 800 number mentioned above is not their number). They told me that they would send me a photocopy of the manual for my model for $8.00. I decided to do this otherwise my breadmake would end up being a doorstop :-)

By Mary Koehler [8]01/17/2007
I have the manual for model K6770. I bet this is a lot like yours. Contact me and I will make a copy of it for you.

By Patty [6]01/17/2007
Did you try calling the 1-800 number for Regal? I have had much better success in getting results when talking to an actual person. The number is 1-800-998-8809. I have the manual for the Regal model R99012436. Do you think it will help you? If so, I will be happy to scan it and e-mail it to you.
Questions
Here are questions related to Regal Breadmaker Model 6750 Manual.
I need a manual for the Regal K6750 bread maker. Does anyone know where I could get a copy or have one they could copy for me?
By Gayelynne
---
Most Recent Answer

01/01/2012
Try this.

http://kitchen.manualsonline.com/ma ... /mfg/regal/k6762.html?idRes=16528798
Answer This Question
Add your voice to the conversation. Click here to answer this question.