OK, I know most people want to repel them, but I want to know how to attract chipmunks into my yard. I have a huge yard with woods on 3 sides and lots of trees in the yard. I have tons of squirrels, some deer, foxes, moles, and even the occasional bobcat. But I've never seen chipmunks even though I know they are native to this area. How can I attract them?
By Cricketnc from Parkton, NC
Ad
---
Recent Answers
Here are the recent answer to this question.

By merlene smith [4]08/24/2009
We have 2 stone retaining wall around our driveway and the chipmunks love to run in and out of the holes. Maybe there is not a hiding place from the natural predators ( fox and bobcat) in your yard.

By Dena Roberts [31]08/24/2009
Usually, the squirrels chase the smaller chipmunks away. So if you have dominant squirrels, you may not be able to attract the chipmunks.

By Myrna [15]08/19/2009
Here's a link that'll tell you a lot of the foods a chipmunk eats and about their habitat.
I suggest making a dry mixture from the list of foods given and feed to the chipmunk. Squirrels will probably join in.

http://www.buzzle.com/articles/what-do-chipmunks-eat.html

By Dan08/19/2009
Try this
http://www.birdsandblooms.com/Backy ... s/Bird-Feeders/No-Wobble-Tray-Feeder
Or just google "Chimpmuk feeder". At most hardware stores you can find feed corn still on the cob. Google "corn cob feeder" and you'll see another design that you can make yourself!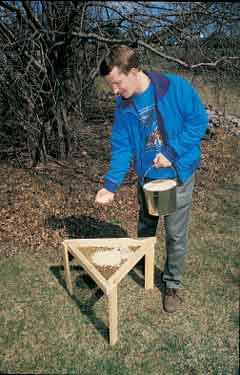 Answer This Question
Add your voice to the conversation. Click here to answer this question.