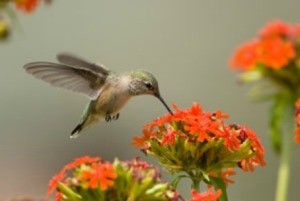 One of the greatest joys of having a flower garden is watching the hummingbirds dart from flower to flower-wings buzzing away while their tiny bodies hover in mid air. Late winter signals the start of the hummingbird migration as they head back to their breeding grounds in the United States and Canada. The males will return first, with the females arriving a few days behind them. Here are some tips for attracting hummers to your garden this year.
Humming Birds Facts
There are 16 species of hummingbirds in the United States and Canada. The Ruby Throated hummingbird is the most common.
A hummingbird can beat its wings anywhere from 60 to 200 times per second, fly at speeds of up to 60 mph, and migrate more than 600 miles. In flight, they are capable of maneuvering forwards, backwards, from side-to-side and even stopping in mid flight.
The average lifespan of a hummingbird in the wild is 5-6 years.
A hummingbirds diet consists primarily of nectar and insects. They lap nectar using long, grooved tongues, which empty into their throat when they constrict their bills.
Hummingbirds do not sing true 'songs'. Instead, they communicate using trills and chirps.
As the smallest birds in the world, hummingbirds have incredibly fast metabolisms. To stay fueled up, they must consume roughly half their weight in sugar each day.
When hummingbirds need to conserve energy they go into a sleep-like state called 'torpor'. Torpor requires 50 times less energy use than a fully awake state, but renders the hummers unable to respond to emergencies. During torpor, their body temperature may drop by as much as 50 degrees and their heart rate slows from 500 beats per minute to 50. It takes approximately 1 hour for a hummingbird 'wake up' from torpor.
Hummingbirds have poorly developed feet (they can hardly walk), but they do like to perch.
Plants That Attract Hummingbirds
Hummingbirds play a vital role in garden ecology. Because of their fast metabolism (some say 100 times faster than an elephant) they need to eat constantly. As they fly from to flower to flower to feed, they pollinate the plants. In fact, without the hummingbirds help, some flowers would be incapable of reproducing. Here is a list of flowers and plants that most hummingbirds find irresistible:
Trees & Shrubs
Abelia, Azalea, Bottle Brush, Butterfly Bush (Buddleia), Cape Honeysuckle, Catoneaster, Hibiscus, Flame Acanthus, Flowering Current, Flowering Quince, Lantana, Lilac, Manzanita, Mimosa, Red Buckeye, Tree Tobacco, Turk's Cap, Weigela.
Vines
Bougainvillea, Coral Honeysuckle, Cypress Vine, Morning Glory, Rosary Vines, Scarlet Runner Bean, Trumpet Creeper, Trumpet Vines.
Flowers
Perennials: Bee Balm (Monarda), Canna, Cardinal Flower, Columbine, Coral Bells, Gladiolus, Four-O-Clocks, Foxglove, Iris, Hosta, Hummingbird Mint (Agastache), Little Cigar, Lupine, Penstemon, Yucca
Annuals: Beard tongue, Firespike, Fuchsia, Impatiens, Jacobiana, Jewelweed, Nasturtium, Petunia, Salvia, Shrimp Plant, Spider Flower, Zinnia.
Hummingbird Feeders
Many gardeners choose to supplement the diets of neighborhood hummingbirds by offering them sweetened water from a feeder. Feeders are widely available at discount stores and garden centers. Most common are the plastic inverted bottle-style feeders and basin feeders. When selecting a feeder, look for one that is easy to clean and maintain, and preferably, one that offers perches. Despite their underdeveloped feet, hummingbirds will gladly take advantage of a chance to rest while they feed (and you'll get some great pictures). Use hot water to rinse the feeder every time you refill it. Periodically, (maybe once a month) soak the feeder for two hours in _ cup bleach and one gallon of water. Rinse well and refill with syrup.
Ideally, feeders should be hung near windows-close enough to watch the action. Cutouts of predatory birds or partially closed vertical blinds will prevent bird strikes on windows, although that seldom seems to be a concern with hummingbirds. It isn't uncommon for hungry hummers to empty feeders quickly so check them daily. Also, be aware that in some areas (parts of the southwest), sugar loving bats also like hummingbird feeders and may empty them overnight. These bats are important pollinators to desert plants, so don't harm them, just bring your feeder indoors for the night.
Recipe for artificial nectar:
1 part ordinary white cane sugar to 4 parts water.
Boiling this syrup is not necessary. Fermentation problems are caused by organisms on the bird's own beaks, not by the water. Unused syrup can be stored in the refrigerator for up to 2 weeks. Syrup will spoil quickly in warm weather so discard any unused portions after a few days and refill with fresh syrup.
Do not use Jell-O, honey, brown sugar, or fruit in your feeder. These can harm, and in some cases even kill hummingbirds. Do not use distilled water (it lacks important trace minerals) or red dye to color the water in your feeder (the base of most feeders are colored and if not, hummingbirds are smart enough to figure it out anyway).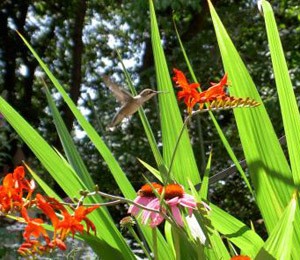 When I put up my first hummingbird feeder, I didn't think I would be lucky enough to attract them. My husband and I were sitting on our patio, and as he was saying "I don't think we'll get a hummingbird here, we're in the middle of a development", a Ruby Throated Hummingbird comes swooping down to take a drink of nectar from the feeder I had hung. That was 14 years ago, and they are still a joy to watch.
Over the years, as my garden grew, I added more and more plants for my little visitors. One day a hummer flew over to the feeder, but then saw the Scarlet Runner Bean, a few feet away and quickly decided she liked the real thing much better. Once I saw her preference, I took the feeder down. My garden is filled with sweet delights for her to choose from. Hopefully I can help you attract these little marvels to your backyard. By feeder or flowers, you'll enjoy the company.
Supplies:
Hummingbird feeder
or small vial /cordial glass
red ribbon
sugar and water
Hummingbird flowers
Instructions:
You can buy a feeder or you can use a small glass. My mom had used a small cordial glass, wrapped a copper wire around the glass and it's handle, so it would hang at an angle. She put a red fabric ribbon on the handle. Hummingbirds are attracted to red, and can see red a half mile away.
You don't have to buy the nectar, it's very easy to make. 1 part sugar to 4 parts water. Boil 1 cup of water, stir in 1/4 cup of sugar until dissolved. Let cool. Pour half of your mixture into feeder, store the rest in the frig.
You'll need to clean the feeder every 3 days to avoid any fungus or bacteria, it could kill the birds. (I used vinegar to clean it) Hang the feeder for good viewing, but not too close to where you might be sitting. 15 feet away is good.
For attracting the hummers with flowers:
(These are the flowers I found to be their favorites in my garden in New Jersey.)There are many more flowers that attract the hummingbird. I find these to be their favorites. Although they are attracted to red, they do go to other colors.
#1 is the Scarlet Honeysuckle Dropmore (I think that's the name), it's a perennial vine. It flowers from May to Oct.
Next is an annual vine, Scarlet Runner Bean. I plant the bean every year, easy to grow, but I have to protect it from the bunnies. You can find this in the nursery dept. with the seed packets. Or just save the dried beans after you've grown your first vine. Plant it the next year, after your frost date (NJ's is May 15th).
Another wonderful favorite is Crocosmia. I have the red perennial. It grows 25-30 inches high and blooms in June. The hummer will sit on the arching stem and take in the sweet nectar.
Liatris is just another favorite for the little winged spirit. I have the purple Liatris, which grows about 24 inches in a spiked form.
Perennial garden phlox will attract, there is a variety of colors and grows about 30 inches.
Cardinal flower is also an appetizing perennial treat, the red flowers appear on green spikes at about 24 inches.
Perennial butterfly weed is a pretty orange flower, at about 18 inches high (it grows in a somewhat bushy form).
Annuals you'd want to plant are nicotiana, lantana, petunia, verbena and zinnia.
Butterfly Bush can be part of their diet, but I find the other flowers attract her more. Of course it doesn't hurt having the sweet smelling butterfly bush around, butterflies rarely pass by this one!
Enjoy!
By Deb H. from East Brunswick, NJ