Tea cups and saucers either from your own collection, thrift stores, or sales can be used in a number of delightful craft projects. This is a guide about crafts using tea cups and saucers.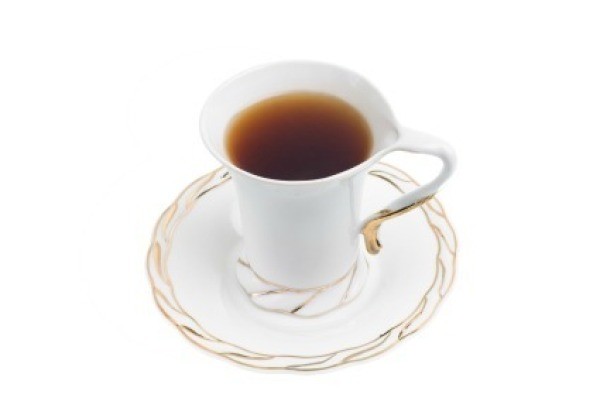 Filter

: All Articles
Sort

: Relevance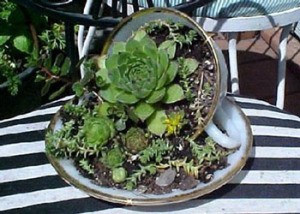 This is a quick easy gardening gift you can make up very easily. Get an old cup and saucer, fill it with dirt and plant chickens in it. I glue the cup to the saucer so it will not move, makes a nice gift to someone who is sick, does not take a lot of care to maintain.
By Phyllis from Roseburg, OR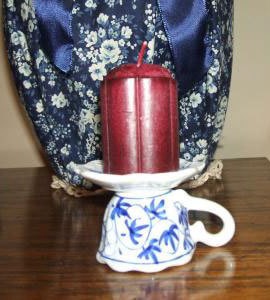 Here's a unique way to use cups and saucers from tea sets that have broken or missing pieces. You could also purchase vintage cups and saucers and create these candle holders to give as gifts. The one pictured is from a mini tea set.
Approximate Time: 5 minutes
Supplies
tea cup
saucer
craft glue
candle
Instructions
Invert tea cup and glue bottom of saucer to bottom of cup. Place votive in center of saucer.
By Mom of 1 from Wilkesboro, NC
I have a good gift idea. Buy an old collectible teacup and saucer at an antique store or flea market with no chips, etc. Clean. Fill it with assorted packets of teabags individually wrapped. Put in cinnamon sticks. Put a pretty little teaspoon (that you buy at a flea market or tea shop) on the saucer. Then cut a piece of clear gift wrap and bring the edges up. Wrap with a piece of pretty ribbon. You have a lovely gift. I like to keep these supplies on hand.
By Maria from Lower Gwynedd, PA
My Relay for Life team is doing a craft project for Mother's Day and I need a source for inexpensive teacups and matching saucers that are in perfect condition (no chips, cracks or crazing). All of them do not have to be the same pattern. But I need to find them at a bargain price so that we can keep the cost down. I have already searched ebay. Thanks in advance for your help.

Melanie from NC
Answer
Was this helpful?
Helpful?
Yes
Jackie O,
I am planning a wedding shower for my sister, also with a "tea party" theme and I also found the website you posted. However, I couldn't find how much shipping would be for the cups. Do you have any idea what the shipping runs? Have you placed your order yet? Thanks!
Reply
Was this helpful?
Helpful?
Yes
Read More Answers...
I have several old tea cups and saucers and want to make something with them. Any ideas? I know about using them as candle holders or flower holders. I was looking at doing something a bit more dramatic. Glue several together maybe for a center piece to hold flowers? or something different. Any good ideas?
By Jean from Sonoma, CA
Answer
Was this helpful?
Helpful?
Yes
Use some E-6000 glue and put the cup on the saucer to adhere using the proper instructions, with the handle up. Put a small teddy inside, with a dot of glue so it will stay inside, or use a flower, a collectable, or anything that will fit that makes it unique. Glue a ribbon to the handle and hang on the wall.
Reply
Was this helpful?
Helpful?
Yes
Read More Answers...
I saw some demitasse cups at a local thrift store. I can't actually make the wax for a candle, but what can be used in the bottom of the cup to set a pre-made votive candle into? I can't just have a candle in the cup without some type of decoration.
By Linda
Answer
Was this helpful?
Helpful?
Yes
Perhaps a plastic candle holder - large/small enough to cover the bottom of the cup. I have used kid's clay in the bottom of votive candle holders to keep the candle stable.
For this project I suggest using enough clay to elevate the candle holder above the decoration. This might help keep the decoration from melting or starting a fire.
Hope this helps.
Reply
Was this helpful?
Helpful?
Yes
Read More Answers...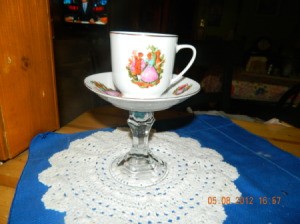 I make lemon curd for tea parties and wanted to have a pretty serving piece to serve my guests. It can be placed on a buffet or used by a server at the event.
Approximate Time: 24 hours
Supplies:
1 tea cup and saucer
1 clear small candleholder
1 sheet fine grit sandpaper
Quik-set Epoxy Glue
Instructions:
Sand the top of the candlestick around the edges. Dust any dust particles away from the edge of the candlestick
Sand the entire bottom ( the small circle on the bottom of the teacup); remove dust particles.
Sand the center of the saucer; remove dust particles.
Mix epoxy glue, apply to the candlestick top, attach the saucer to the candlestick.
Apply glue to the tea cup; attach to the saucer.
Allow to dry overnight before use.
**Handwash only
**This teacup server is not dishwasher-safe.
By Jose from Collierville, TN
Comment
Was this helpful?
Helpful?
Yes
Use old coffee cups and saucers. Hot glue the cup to the saucer and it can be used as flower arrangement or soap dish or jewelry holder. Nice way to recycle an old coffee cup. Drill small holes for drainage if use for plants for Mother's Day.

Source: My idea as a retired teacher. I use this for Mother's Day but it could also be used for Christmas.

By Julia from Pembroke, NC
Tea cups and saucers make nice tea light holders. Just put the tea light inside and you have a nice candle. Makes a nice gift too.
Comment
Was this helpful?
Helpful?
Yes
Start seedlings in cracked and chipped cups. They are cheap, can be reused year after year and actually look pretty cool. I buy cracked tea cups for dirt cheap at garage sales so I my seedlings have a tea cup theme.
Comment
Was this helpful?
Helpful?
Yes