Old tea cup crafted into pincushion.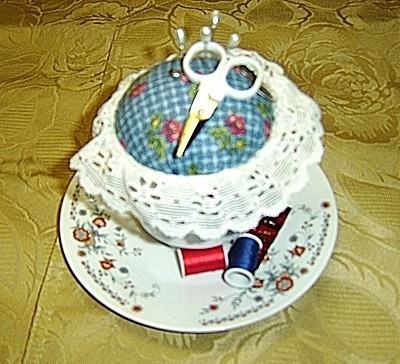 Approximate Time: 1 evening
Supplies:
old teacup
pins
needles
decorative and useful items
small spools of thread
scrap of material
stuffing
glue
hat pins
small scissors
Instructions:
Glue cup to saucer. I usually do that the night before to let the glue dry thoroughly.
With the scrap of material, place a dessert plate on it. Trace around plate and cut on lines. 1/4 inch from edge do a running stitch.
Pull the stitching, making it into a small circle, this is known as a yoyo.
Stuff until it is the size needed to fit into the teacup. Glue in place.
Glue lace edging around rim of cup. Group several hat pins, anchoring a needle threader, or whatever things you may want to decorate with. I then wrap in cellophane or it is also pretty wrapped in tulle. Add bow or pretty ribbon. Makes such a pretty gift!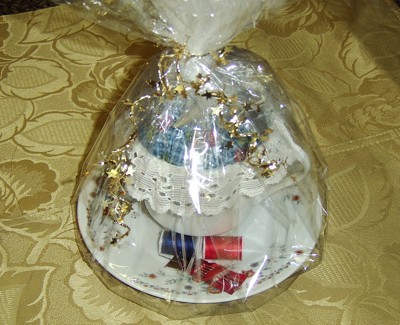 By dorothy wedenoja from New Creek, WV