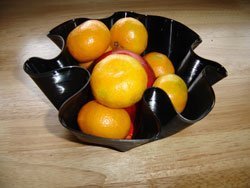 Vinyl record bowls are easy to make and a are cool way to recycle your old records. This is a guide about making vinyl record bowls.
Ad
---
This short video gives you quick lesson in making a bowl from a vinyl record. It's quick, easy and fun.
Solutions: Making a Vinyl Record Bowl
Read and rate the best solutions below by giving them a "thumbs up".
This is an easy recycled craft that you can make in 20 minutes or less. It makes a hip container for that small potted plant that you are planning to give someone as a gift this Christmas.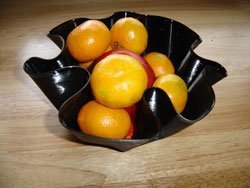 Warning: Make sure you do this in a well ventilated area to avoid inhaling fumes. Open windows and make sure the fan is on in your kitchen.
Ingredients:
Record that you no longer care about
Oven safe bowl (approx. 9" across the top)
Cookie sheet
Directions: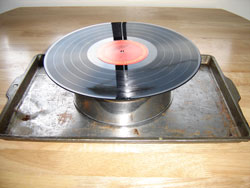 Preheat oven 200 degrees F. Place Bowl upside down on the cookie sheet place record on top of the bowl. Once oven is preheated place in the oven for 8-10 minutes.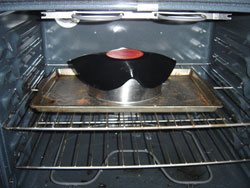 Now the record should be soft enough to mold, and cool enough to touch but use pot holders at first, just to be safe. The bowl and cookie sheet will be much hotter than the vinyl. Turn the bowl right side up and place the record in side it, and mold until you got the shape you want. You only have about a minute to work with it, so work fast. If it is not just right put it back in the oven for a few more minutes and try again.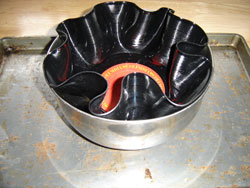 Once it has completely cooled it is ready to use. It took less than five minutes for mine to cook completely. What for you may ask?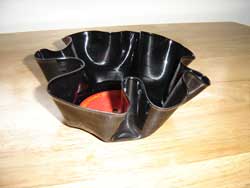 Fruit bowl
Flower pot (already has the drainage hole)
A place to put your keys
A decoration
A gift
Nail it to your wall has art
Paint it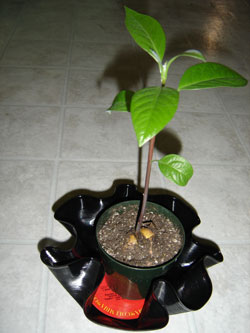 * Notice to pet owners: hair sticks to this very easily. Simply just wipe it down with a wet cloth.
Another thrifty present for Christmas is to take some old vinyl albums or records large or small and make them into trinket bowls. Place the vinyl on top of a smaller glass bowl and put in the oven for about 5 minutes till the vinyl starts to droop into the bowl. It's easier if you put a heavy tin of something on top but if you do be sure to open the tin a bit so it doesn't burst under pressure. As the vinyl droops into the glass bowl because the glass bowl is smaller, the vinyl will also flute all round the edges in folds which are very pretty. Then take out the oven and let it cool and you have a nice trinket bowl which can be filled with sweets. It makes a groovy present for a teenager as retro is fashionable and it's also recycling old stuff.
By Carol from England
Give a "thumbs up" to the solution that worked the best! Do you have a better solution? Click here to share it!
Questions
Here are questions related to Making a Vinyl Record Bowl.
I have tons of vinyl records; I need information on how to craft a bowl.
Thanks. Cindy
By Cindy from Dallas, TX
AnswerWas this interesting? Yes No
Ad
---
---
Most Recent Answer
---
Can food such as nuts or chips be put directly into bowls made from old vinyl records?
By Jan from VA
AnswerWas this interesting? Yes No
Ad
---
---
Most Recent Answer
By Lilac 20 1,332 01/28/20110 people found this helpful
Do not put food in anything that is not manufactured for food. There are chemicals and additives in materials that can make you ill. There may be lead in them.
---