Can food such as nuts or chips be put directly into bowls made from old vinyl records?
By Jan from VA
Answers
March 31, 2010
0

found this helpful
Best Answer
As long as they're clean and lined with a thick paper or fabric cloth and it's dried food then yes indeedy doo ;-)
January 28, 2011
0

found this helpful
Best Answer
Do not put food in anything that is not manufactured for food. There are chemicals and additives in materials that can make you ill. There may be lead in them.
Answer

this Question

...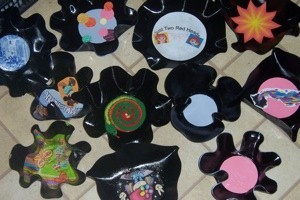 I'd like to find out a very good, washable sealant to put on plastics so they can be used as washable chip dishes. I make vinyl record bowls, but when I use Modge Podge on them it seems to finally come off and ruin the designs I paint or glue on them. So I would like to find a stronger sealant to use on them. Any suggestions?
By Mandee from Spokane, WA

Answers:
Using Vinyl Record Bowls For Food
I think that I would put a clear plastic or glass bowl inside then you would not have to seal it. (09/16/2009)

By Mary Lou
Using Vinyl Record Bowls For Food
Use patio paint or an acrylic paint. (09/16/2009)

By jassy
Using Vinyl Record Bowls For Food
I would only use them for chips or other dry foods. I'd feel strange about using hot and/or wet food in a dish with a home-applied sealant. The only information I know to back this up is that a lot of Mexican ceramic ware is labeled "not for food use" and these have designs painted inside. I don't have an address, but if you wrote a craft association, they could maybe help you. Look in a home crafts magazine for "sources" in the back. (09/17/2009)
I was looking at the page on how to make bowls out of old vinyl records. I also saw something on TV about a guy doing this for a living. Anyway, was wondering what you should do to make it water proof. I'm sure you couldn't put it in the dishwasher. But is there a way you could eat out of it?

Answers:
Using Vinyl Record Bowls For Food
There are now directions on this website for making one:

http://www.thriftyfun.com/tf895928.tip.html (06/07/2006)

By suzanne
Using Vinyl Record Bowls For Food
You can find them on Google, but here they are anyway:

Choose an LP with a colorful label.
Clean the LP with soap and water; dry well.
Preheat the oven to 350F.
Lightly oil one side of the LP (peanut oil is preferable, but any oil will do).
Place the LP oiled-side-down on the cookie sheet.
Set timer for 1 minute and 35 seconds.
Put the cookie sheet into the oven and start the timer.
After 45 seconds, flip the LP over so it heats evenly.


When the time is up, take the LP off of the cookie sheet and begin molding, turning up the sides to create a wavy bowl shape. The bowl should not be too hot; if it is, wearing gloves does the trick. (Caution: Do not wear plastic gloves.) You have only 20 to 30 seconds of playtime to shape the bowl, so be nimble.


If your bowl looks wrong, put it back in the oven for another 10 to 15 seconds. That will give you more playtime.
If your bowl is still lopsided, put the LP back in the oven until it wilts into its original flat form and start again.
The finished product will be smaller than you might expect. In-house research has shown that three bananas, one large apple, or four heads of garlic will fit into the average bowl.




Good Luck! (05/21/2007)


By Zoe
Using Vinyl Record Bowls For Food
While that's awesome artistically, vinyl is a very reactive plastic and will potentially leach plasticizer and polyvinyl chloride into the food that's in the bowl. While the polyvinyl chloride is molten, it is especially susceptible to leaching, so wearing gloves to make it would be very helpful. (11/28/2007)

By DJ Delphi