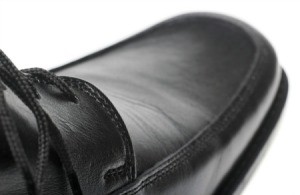 Leather shoes can often be stretched using a liquid shoe stretch product. You can save money by making your own with products you probably have around the house. This is a guide about homemade liquid shoe stretch.
Ad
---
Questions
Here are questions related to Homemade Liquid Shoe Stretch.
How do I make shoe stretching spray?
By gadson
Ad
---
---
Most Recent Answer

By Linda Jones [13]02/16/2012
1/3 rubbing alcohol to 2 parts water. Put into a spray bottle. Spray then wear shoes as they dry.
This is what is in the expensive sprays.
How do I make shoe stretcher spray?
By Joe from NY
Ad
---
---
Most Recent Answer

By Tizzette12/21/2010
Use body lotion. I have had good luck using body lotion or hand lotion to rub into the inside of the shoe where it needs to be stretched, then wearing it. Wearing thicker socks also helps. I have a two way shoe stretcher which works well for length and width but if the shoe is tight in the vamp/instep, the shoe stretcher doesn't work there. So I just work a liberal amount of lotion inside the shoe all around the whole area that is tight. The shoe stretcher does not widen the toe or raise the toe either, so I dampen a wad of tissue, wedge it in just right, and then force it with the shoe stretcher for a day or two to dry.
How do I make homemade liquid shoe stretch?
By Carrie D.
---
Most Recent Answer

By Julia in UK [6]06/22/2014
Dampen a bar of soap with water, rub it on the inside of the shoe, then put the shoe on your foot. Repeat as necessary until the shoe has stretched enough.
Do these homemade solutions work on non-leather shoes? I bought a pair for a wedding that have a satin finish on the outside and man-made material inside.
By Rita A.
---
Most Recent Answer

By Luna Rose S.06/03/2015
70% rubbing alcohol 1/4 cup
glycerine 1 tbsp
liquid softener 1cap full
water 2 cups warm
* mix all ingredients in a spray bottle while waters still warm stay problem areas on shoe while wearing or stuff shoe with a white sock and spray. let dry, repeat as needed til you achieve comfort.
What can be used to stretch out fabric/non-leather tennis shoes without staining them?
By KB from Indianapolis, IN
Solutions: Homemade Liquid Shoe Stretch
Do you have knowledge about this guide topic? Feel free to share a solution!