Is there anything that will take spray paint off a driveway?

Laurie
September 22, 2013
0

found this helpful
Best Answer
Use Graffiti goof off! Worked awesome!
October 27, 2013
0

found this helpful
Best Answer
It's working! Yay! Goof Off Graffiti remover is amazing! Definitely use that.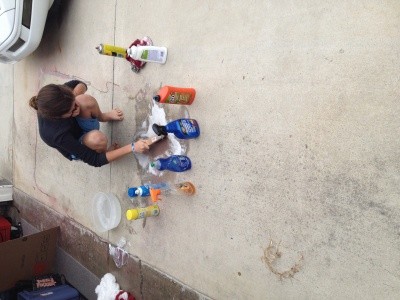 March 22, 2016
0

found this helpful
Just squirt "The Works" toilet bowl cleaner on area...scrub lightly with any brush and hose it all off. Costs $ 1.77. Don't exhaust yourself !
April 12, 2016
1

found this helpful
OK. After doing a little research and having this same overspray problem I have THE answer. Yes, it may be too late for you LWally, but it may help someone else stumbling on this post as I did.
Plain and simple. Muriatic acid. Buy it in all volumes of containers at your hardware store, from quart to gallons depending on your job. Inexpensive. Worked for me in literally seconds. Once I applied it to the overspray, it immediately bubbled it right off, no scrubbing at all. Afterwards, I neutralized it with a rinse from the hose and done.
What else can I do with my leftover time today? I was thinking I'd have to spend hours sanding, scrubbing, washing, powerwashing or something. Thankfully, no!
Read the bottle, you can clean oil spots off your driveway with it, get rust off stuff, clean your pool....it's endless. :) Have fun cleaning!
May 18, 2016
0

found this helpful
I used gasoline. Came out in under 2 minutes.
June 15, 2016
0

found this helpful
Didn't have pure acetone so I used my sisters nail polish remover and steel wool and it worked
July 28, 2016
0

found this helpful
Goof off works quite well. Just scrub with any scrubbing brush and wash it off with some water. Comes right off.
July 30, 2016
0

found this helpful
Pine Sol should not be mixed with bleach or any other household cleaners. Mixing these chemicals can produce toxic gases.
October 16, 2016
0

found this helpful
This just happened a second ago to me and my neurotic husband. He just grabbed WD40 and a stiff sponge or brush. Hosed it off in literally 4 minutes. We ain't got time to scrub all day!!!
Read More Answers