Who makes Walmart's "Great Value" coffee?

Bill from Orlando, FL
By Bill
Ad
---
Recent Answers
Here are the recent answer to this question.

By wthompson191908/13/2014
Massimo Zannetti makes Master Chef ground coffee, (it says Master Chef on the can, NOT Great Value, which I have never seen except in instant) I like the coffee and find it very palatable even black,(although I don't drink it black)but could not find out what coffee beans were used. So I called them this morning and asked. I was told it was a blend of 100% Robusta coffee beans.

By Roddy F.08/11/2013
Master Chef coffee is actually Chase & Sanborn. The coffee has been made under that name for more than a hundred years and has been owned by several different companies over the years. Walmart simply has them repackage it under the Master Chef name.

By mkkma09/06/2012
I bought master chef coffee tried it this morning It was pretty good have to use a little extra to get the flavor you like I mixed it with a tiny bit of expresso great price at walmart. Columbian coffee is always the best I don't know if they use columbian it just says 100% ground coffee. I usually buy don francisco in publix. It is very good but they keep going up on the price. the best maxwell house is the one that says 100% columbian.

By Walter C.06/13/2011
For those that have said that Master Chef is made by Sara Lee, that is no longer correct. It may have been in the past, but currently it is made by Massimo Zanetti Beverage USA - it's printed right there on the can. That may also be why I see a lot of reviews mentioning a 34.5oz can - the current can is 33oz.

Massimo Zanetti Beverage USA makes several brands of coffee including: Chock Full oNuts, Chase and Sanborn, and Hills Bros, although Master Chef is mysteriously not mentioned on their website.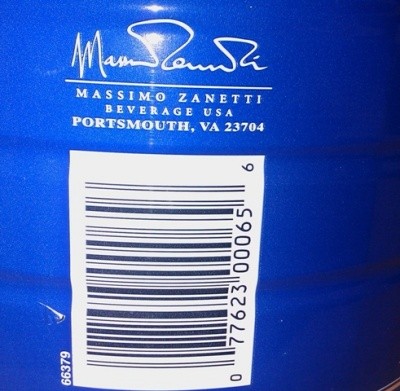 By john04/01/2011
These answers don't answer anything. Most likely I believe that Great Value is whoever Walmart wants it to be. The Dark Roast that i am drinking now tastes not too bad. Main thing is it's cheap so if I can stomach it, I can mix it with my favorite Folgers French Roast to save money.

By Judi [17]06/14/2009
wikianswers says:

Great Value is not manufactured in one place by one company. It is manufactured by a variety of different companies. Great Value is a "house" or store brand owned by Wal-Mart. Wal-Mart takes bids from different companies to make great value products. The companies with the lowest bids get the contract to make the products. So one company might get the contract to make great value dryer sheets and another might get the contract to make great value light bulbs while another gets the contract for great value milk. ConAgra which produces such brand names as Swiss Miss, Van Camps, Hunts, etc. also makes some of Wal-Mart's Great Value products. So in reality store brands are made by the same companies that make name brands.



By Cecilia06/14/2009
I have been searching and searching for info about who produces great value products. Does anyone know the answer to this question. I find it odd that it seems to be so hush hush. Please help with any info.

By Jeff K. (Guest Post)02/08/2009
I have been using Master Chef since Maxwell House went through the roof in price. $8.00. at Walmart. It tastes like good coffee. NOT Bitter. I am about to try the 8:00 100% Colombian coffee recommended by CR. ( a sample was given to my brother) but the last time I tried 100% Colombian coffee (Chockful of Nuts), I gave the can away. It was very bitter.

I was surprised today to find out that Master Chef was made by Sara Lee. I wonder what kind of beans they use? Does anybody know? I also found a review on generic coffees on line and they recommended Master Chef.

By Thomas R. (Guest Post)01/27/2009
I have been drinking great value coffee for years and I really liked it, a dark rich aromatic. To my great surprise last week I opened my large can of great value to find it filled with a very cheap grade of flaky tan coffee that tastes like dishwater. I have contacted walmart to see if this was a mistake or they were downgrading great value without changing the label. Whats up?

By Charlie (Guest Post)09/20/2008
The walmart brand coffee is disgusting. My mom buys it because it's cheap as dirt, unfortunately, it also tastes like dirt. The brand they get it from has a very bad environmental record of destroying the rainforest.

By Donna (Guest Post)08/02/2008
I absolutely love this coffee and am going thru withdrawal since my Walmart does not seem to have it anymore. This tastes better than nescafe, melita, hills brothers, etc. Now I just have to find it.

By eric lee (Guest Post)01/28/2008
How do I contact Great Value about their products?

By CHARLES11/10/2007
ITS THE MASTER CHEF BRAND AND ITS MADE BY SARA LEE COMPANY AND ITS GOOD. I HAVE USED IT EVER SINCE MAXWELL HOUSE GOT COSTLY. YOU MIGHT HAVE TO ADJUST THE AMOUNT YOU USE TO GET THE TASTE YOU WANT

By chuck (Guest Post)11/10/2007
Walmart cheap brand of coffee, Master Chef, is made by Sara Lee Co and it's very good. I have used it ever since Maxwell House got costly.
Answer This Question
Add your voice to the conversation. Click here to answer this question.