Does anyone have an idea where I could buy regular butcher paper?

Mary from Newark, California
By Mary C.
Ad
---
Recent Answers
Here are the recent answer to this question.

By Darlene Johnson [17]06/20/2011
I am very lucky to have a butcher that will sell me the paper. He will get his large roll down to a size good for me, then I get it, usually is enough for at least 3 - 6 months. Since I buy most of my meat from him many times he does not charge me anything. The other paper I love to use is parchment paper. Here in Canada you can buy it at most $ Stores in packages that have pre-cut sheets the size of a cookie tray. My husband tends to use the pre-cut pieces when cooking rather than take the time to cut from the roll. It is wonderful not to have any clean up other than throw out the paper!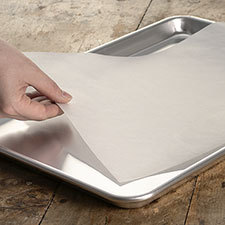 By Jimmie (Guest Post)12/16/2008
If you are talking about just regular white paper that you use to cover meats. It is paper on one side and slick on the other. You can get that at Food Lion or Wal-Mart. It is Reynolds Freezer paper. It is with the other wraps and zip-lock bags. I use it mainly to cover the deer meat my husband gets when he hunts, but have also used it for hamburger and chicken.

By Amy in Maryland (Guest Post)12/14/2008
I have bought several rolls from Office Depot, and Michael's Craft store. We used this for creating Project timelines and Objective Milestones. The rolls were approximatly 36" wide X 290' long.

By Shirley [14]12/12/2008
In school and in church ( children's) we use what we call butcher paper. It comes in huge rolls of all colors. If you want to buy it by the yard or whatever you can probably go to a school supply store like "Lakeshore" or "Learning is fun".'

12/12/2008
Talk to the butcher at your market. They might sell you some and maybe even give it to you if you're not asking for a lot ;-)

By cats21dog (Guest Post)12/11/2008
Do you have a Sam's Club where you are? You might try there.

By (Guest Post)12/11/2008
Souds silly but if you have a local butcher, stop in and ask where they get their paper or if you could buy a roll from them.

By Lisa 12/11/2008
Restaurant supply stores that are open to the public carry regular butcher paper in my area (PA), so you could check there.
Answer This Question
Add your voice to the conversation. Click here to answer this question.