A Warm Thank You - Crocheted Hand Towel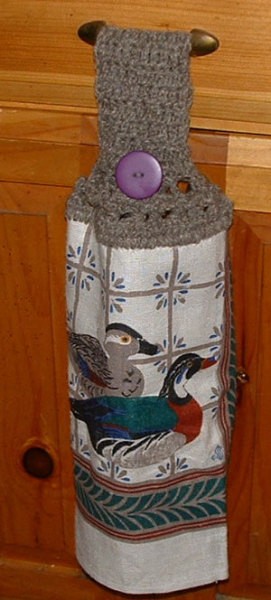 A little while ago I sent a request to help me with my dilemna to make a hanging crochet hand towel. I'm very happy with it and very grateful for all the help, the meat fork worked for me! I wanted to place a picture of my towel for you to see.
Kate
Feedback
Read feedback for this post below. Click here to post feedback.

By SherryFrench (Guest Post)
02/07/2005
You can also just thread the yarn into a very large needle (the larger ones with large eyes) and then whip stitch all the way across the top of the towel. The stitches that are created are great to cast on your first row of single crochets, then you can go from there. This is just a thought.
Sherry French

By kate back! (Guest Post)
01/25/2005
I feel really bad. Ive been trying so hard to put into a pattern that you all could follow. something that makes some kind of sence and i just dont seem to beable to. Im one of those people that just do it and then cant explain how? what I had done was to look at the one I have and follow what I saw. I first folded the towel in half, then again took about an inch or two on either side and folded that to the back, for a nice flow. With the making of the holes. I used a large meat fork. I made each hole then crocheted a single stitch within each hole, until I had reached the end. and after I had made the base of single stitches I just played it by sight. decreasing as I went along. all the time measuring it to the drawer to know how long to make it. I then threaded a large button and tied that onto the top.
I am so sorry for not being able to create something more sensible to be able to follow, thats what happens to me when I try to explain something I just do..I do hope that ive been of some help with my nonsensical "pattern". :(

By kate (Guest Post)
01/24/2005
I'm working now on the pattern. I have a habit of just doing what ever works and don't use a pattern. But I'm getting closer to just how I did it and will post it soon! thank you.
kate

By Roberta Kelly (Guest Post)
01/24/2005
I too would love the instructions on how to make the towel. I've bought them in the past and would like to make some for Christmas presents for next year. Do you punch holes in the towel in order to begin the crochet row?

By Bobbie Gillette (Guest Post)
01/24/2005
Would you please share your pattern to make crocheted top for Kitchen towels, also please explain in detail how to get the crocheted stitching started on the towel.

Thank you,

Bobbie Gillette
badgillette @ charter.net (remove spaces)

By
01/23/2005
Kate,
This turned out wonderfully. Thanks for sharing the final product.
Susan from ThriftyFun
Post Feedback
Add your voice to the conversation.
Related Guides
Related Posts