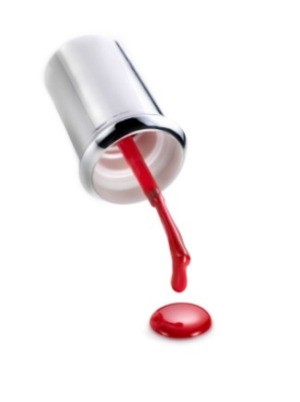 Nail polish can be difficult to remove from textiles, especially if it has already dried. This guide is about removing nail polish from clothing and fabric.
Ad
---
Questions
Here are questions related to Removing Nail Polish from Clothing and Fabric.
When people recommend Off for nail polish removal, are they recommending Off the oven cleaner, or Off the bug spray? Thanks! This is for polish on a brand new cotton dress (fabric is on the thin side).

A.B. from San Rafael, CA
Ad
---
---
Most Recent Answer

By Aaven R.10/07/2014
I just spilled some yellow glitter nail polish while cleaning the nail salon on Monday. I spent 3.49 at the dry cleaners and they didn't do a good job so I tried the "Easy off" oven cleaner then scrubbed it then washed them as usual and the stain is gone. Oven cleaner does wonders :)
How do I remove dried nail polish from a comforter? It is 100% cotton.
By Shirley
Ad
---
---
Most Recent Answer

By Frugal Sunnie [11]01/31/2012
Scrape as much of the dried polish as you can off using your fingernail or the edge of a credit card.

Then use non-acetate fingernail polish remover to get the colour (if any, not all nail polish stains when colouring your nails or anything else) out of the fabric. Non-acetate remover won't eat the cotton fibers.

If you do have some colour staining from the polish after you've used the remover, about the only thing left to do is either leave the mark as a memory (for example if a child or grandchild was playing dress up for the first time), or cover it with either embroidery or a patch of fabric applied as an applique.
I had a drop of nail polish get on a pair of khaki pants and tried nail polish remover to get it out and it didn't work. Then I tired soap and water and that didn't get it out. How can I get the polish out even after the polish has dried on the pants?
By Pumpkin
---
Most Recent Answer

By Vi Martin [4]12/18/2011
"Awesome can be bought at Family Dollar Stores. It is in the cleaner department.
How do you remove nail polish from nylon clothes?
By Theresa from Athens, AL
---
Most Recent Answer

By Louise B. [5]04/27/2010
The archived answer from Cyinda is very thorough. However, I would like to add a note of caution. She has told you that nail polish remover will melt a hole in some fabrics, and I had that experience. I had some on a "suede" dress, and the acetone took the fuzzy finish right off. It was much worse than the actual stain. Luckily, a gal in a dress shop had the idea to bring the belt around the front and fasten with a nice broach, which worked really well. Anyway, be sure to test the nail polish remover on the fabric in a hidden spot to see if it will damage the fabric.
My 3 year old daughter got into a purple bottle of nail polish. I would like to know what is the best way to remove it from my bed comforter.
By Catina from Johnson City, NY
---
Most Recent Answer

03/12/2010
Another person just asked a similar question but her fabric is white. Here's what I suggested to her but you might want to do a test on an inconspicuous portion of the comforter before trying unless your comforter also happens to be white:

"Have you tried soaking the portion that is stained in nail polish remover and then briskly rub the fabric together? I would try non-acetone polish remover first and be sure to wash the pillowcase afterward. ;-) Let us know if this works or not, okay?"
How do you remove nail polish from a sweater?
By Twilighter444 from Houston, TX
---
Most Recent Answer

By Louise B. [5]04/17/2009
Be very careful with nail polish remover. I had a spot of nail polish on a polyester suede dress. The polish remover removed the suede as well as the polish-- so I was worse off than when I started.
I have a beautiful long black coat that has a 100% polyester exterior and I spilt clear nail varnish down the front. It is Sally Hanson triple strong strengthener to be exact and I can't get it out. I've tried using remover, but it just won't work. Does anyone know of anyway I can remove it? It's my favourite coat and I'm devastated over it!
By Kyrsty T
How do I remove nail polish from a pair of 68% rayon, 30% polyester, and 2% spandex dress pants? Please help. Thank you.
By Joanne
How do you remove nail polish from a white acrylic sweater?
By Halley
how do I get gold nail polish out of a white dress?
By lilac
I spilled some glitter nail polish on a black top and I just can't get it off. A website said that it helps with nail polish remover, but it doesn't even work to get it off the nails!
Do you have any ideas how to get this off really quick?
I don't actually have much time, I'm planning to wear it on Saturday, so I need help ASAP!
By Marie
I spilled nail polish on my bedding. I have tried everything to get it off. Does anyone have any suggestions?
By Kallista
Unfortunately all of my children's coats were washed and dried along with pink nail polish. Is there something I can put in the wash to quickly get the polish out of all the coats?
By Beezus
How do I get nail polish off a sweatshirt?
By Denise from Coon Rapids, MN
Solutions: Removing Nail Polish from Clothing and Fabric
Do you have knowledge about this guide topic? Feel free to share a solution!