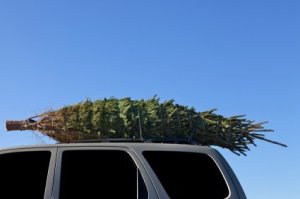 When tree sap gets on your car it can be tricky to remove. You'll want to remove the sap without doing damage to the wax below it. This is a guide about removing tree sap from your car.
Ad
---
Solutions: Removing Tree Sap from a Car
Read and rate the best solutions below by giving them a "thumbs up".
We were "rained on" by a newly trimmed pine tree. Not much seemed to work and the sticky gunk got everywhere!
This combo worked effortlessly:
Scrape off carefully with single-edged razor blade.
Follow by wiping with WD40 on cloth or paper towel.
Wash car as usual.
By Cathy W. [1]
Give a "thumbs up" to the solution that worked the best! Do you have a better solution? Click here to share it!
Questions
Here are questions related to Removing Tree Sap from a Car.
How do you safely remove pine sap from cars without damaging the paint?
By Amanda from TX
AnswerWas this interesting? Yes No
Ad
---
---
Most Recent Answer
By Mary 3 10 04/27/20110 people found this helpful
We live in a pine grove in Maine - the pine tree state, so I have some experience with this... I find that Purell or a similar waterless hand cleaner works well.

Mary Rollerson
---
Can anyone tell me how to safely remove tree sap from my car's finish?
By Claire from Chicago burbs
AnswerWas this interesting? Yes No
Ad
---
---
Most Recent Answer
By Jackie 32 04/08/20110 people found this helpful
If you have tree sap the best thing to do is not touch it and use a water hose to rince it off. I have tried everything also and found if you touch it, it sticks but if you rinse it with water it comes off very easy.
---
How do you get sap off a car?
By Lena C.
AnswerWas this interesting? Yes No
---
Most Recent Answer
By Spacecase 11 79 04/09/20120 people found this helpful
Use Baby oil and rub it until gone. I wouldn't use any chemicals as they can strip your clear coat/wax or paint right off. You could also try some ice and chip it off very carefully with a blade. I use the baby oil myself.
---
I have some tree sap on my car hood and would like to remove it. Any suggestions for doing so without ruining the paint?
By Rose from Malvern, PA
AnswerWas this interesting? Yes No
---
Most Recent Answer
By lizzie doodle 2 10/11/20130 people found this helpful
Tea Tree oil dissolves pine sap, spruce sap. It's safe enough to use as a mouth wash and will not harm your wax or paint. Find in a drug store or a health food store (better than mayo, butter, soda, cleaners).
---
How do I remove tree sap from my truck box liner/ I hauled a load of wood and now there's sap/pitch all over my liner.

By Cindy
AnswerWas this interesting? Yes No
---
Most Recent Answer
By janghaj 2 07/08/20130 people found this helpful
Turpentine or finger nail polish remover. Helped cut down a evergreen in my front yard. Gloves were sticky with sap, then was my gloves with hands still in them and it came right off. Used gardening gloves not leather ones
How can I remove the sap that has fallen on top of my car?
By Jesse B.
AnswerWas this interesting? Yes No
---
Most Recent Answer
Archives
Thrifty Fun has been around so long that many of our pages have been reset several times. Archives are older versions of the page and the comments that were provided then.
What is the best way to remove tree sap from a car without hurting the finish or the paint?
---
RE: Removing Tree Sap From a Car
Try Lestoil. It removes tar, so sap should be a non-issue. It will not ruin the finish. We've used it on our cars and my husband uses it on his Harley and we've NEVER had a problem with it. (06/13/2005)
By chima0692
RE: Removing Tree Sap From a Car
Whatever you do, DO NOT USE NAIL POLISH REMOVER! A message board suggested this and I tried it and it left smears all over my paint. (05/03/2006)
By Nicole
What works to remove pine sap that won't hurt the paint on your car?
magnoliatn
---
Clay Bar
The best way to get rid of tree sap is to use a "clay bar." This should be available at Murray's or PepBoys, possibly even Wal-Mart or Kmart. The only two manufacturers I know of that make clay bars are Meguires and Mothers. If you can't find it in the store, try the web sites for the manufacturers. It's about $10-15, but it lasts for a while. I've had mine about 2 years. The instructions are very simple, although initially it may seem like a bother. (12/01/2000)
By Christina
Clay Bar 2
After reading some of the other suggestions for removing tree sap, I feel I must point out that the clay bar will NOT strip the wax from the car's paint job. If you're going to wax the car, wax the whole car to keep the paint the same color and condition; don't just wax one tiny spot. I would definitely stay away from any method that would strip the wax. The clay bar is specifically designed to remove sap and tar and bugs, etc. while NOT stripping the wax. (12/01/2000)
By Christina
Baking Soda
Warm rag with a little bit of baking soda. Let it sit on sap then rub off! (08/04/2005)
By ty
Butter
The best method I've found for pine sap removal is crisco or butter. I've never tried it on a car, but can personally say that rubbing crisco on the sap in my hair removed it immediately. I've also used butter on the kids feet to remove sap while camping. It's fast, but most important it won't remove skin or paint. (08/27/2005)
By Carrie
Sap on Your Car
It always best to remove sap from your car quickly, while it is still soft. The harder the sap gets the tougher it is to remove and the more likely it is to scratch your car's finish. Make a paste with a mild abrasive like baking soda and apply to the sap, then rub it with a rag until the sap is removed. You can also try rubbing the sap with mayonnaise on a rag. I have also heard that WD-40 works well for softening sap so that it can be removed. Clean the area once the sap has been removed. (09/17/2005)
By ThriftyFun
Turtle Wax Bug and Tar Remover
Turtle Wax Bug and Tar remover does not work (even though it says right on the label that it does). (10/01/2005)
By John
My Experience
I purchased TurtleWax Pine and Bug remover which worked very well on metal, painted surfaces (automotive) and does not harm your paint. I tried to use this same product, however, to remove white pine gum from the plastic of a pick-up box liner and it left a white stain/residue and, moreover, it did a poor job removing the gum. Noticing this white stain I then decided to experiment with butter and ice on other pine gum stains on the box liner as well as on the rubber material at the base (and around the perimeter) of automotive windows. Ice did not work for me (I used several different techniques - applying for a longer duration of time, scrubbing with cube, etc), yet butter worked wonderfully and did no harm (i.e, did not leave white stain) to the plastic, or the rubber. (05/04/2006)
By Matt
Rubbing Alcohol
I have been super busy and haven't had a chance to wash my car for the last four months. I live in an area that has a bunch of pine trees so once I finished washing my car i noticed A LOT of tree sap. I took Nancy's advice and used rubbing alcohol, it worked on every single spot. The only problem was that in some cases it left a residue. The solution is to wipe on some butter then wipe it off. My car looks like i just drove it off the lot. Don't waste your money on all that other stuff all you need is alcohol and butter. Good Luck! (06/29/2006)
By Big T
Sanitizing Hand Towels
My Beemer just got painted and was looking showroom new. It didn't take any time at all and my Beemer got attacked by a few serious shots of pine tree sap. I tried everything from Goop-gone to all kinds of so called tree sap remover with no luck at all. So I got to thinking. I wasn't to hot on the idea of pure alcohol on my paint so I looked behind my desk seen some "Sanitizing Hand Towels" with aloe and a few Vitamins. I took one to the Sap Attack and whoooosh! In seconds the hardened tree sap was gone rinsed it with some warm water and touched it up with a bit of wax and looks like new again. (07/01/2006)
By Rick
Rubbing Alcohol
I had a ton of pine sap on my new car. I read through the Internet to see what I should do. I kept reading about using rubbing alcohol. I finally decided to try it. It worked! I applied the alcohol to a cotton ball and gently worked the spots. I could only clean 2-3 spots per cotton ball before getting a residue, which I wiped away with a wet cloth. It took awhile, but I got my car back. I suggest using rubbing alcohol and a wet cloth. (07/11/2006)
By Chris
Peanut Butter
Ever-popular peanut butter! It worked like a champ, and then I had a sandwich! (07/30/2006)
By Diane
Rubbing Alcohol
It's my neighbors tree and it's at the end of my driveway, the first time it got on my wife's new black Impala it cost me $200 to get it cleaned off. that was 4 years ago, now it happened again but this time it got both cars, mine is now the new one. Read through your page of tips, tried them all and found rubbing alcohol worked the best. Your page saved me some money. Thanks. (08/09/2006)
By Bob
WD-40
Try WD-40. It removes bugs, tar and sap and will not hurt the finish on your car. (09/13/2006)
By Tamara
Alcohol
The guy at the GM dealer who details the cars said use alcohol. Then re-wax because the wax has also been removed and the sap will stick more NEXT time.
By Jenny
My son came home from school with his car covered with tree sap. It has dried on to a lacquer finish.
What is the best way to remove tree sap from an automobile?
How do I safely remove tree sap from my car?
Can tree sap eat through car paint? We have a tree that I cannot identify, a deciduous tree with pods.
How do I clean dried pine sap off my car, without damaging the paint?