What is This Tree?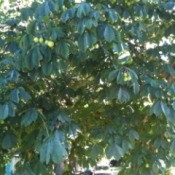 I saw this tree on the side of the road in hardiness zone 8a near Seattle, Washington. I am curious to know what kind of tree it is. It reminds me of a rambutan tree, but I am pretty sure those only grow in tropical climates.
By Stella from Manchester, WA
Answers: What is This Tree?
Read answers for this question below.
Answer This Question
Add your voice to the conversation. Click here to answer this question.