EllenB
Gold Post Medal for All Time! 858 Posts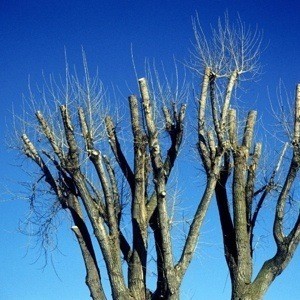 When gardening, preventing problems from occurring is often easier than dealing with them after they appear. This is often the case with tree suckers and water sprouts. If not removed immediately, they will zap the vitality from healthy trees as they continue to grow. If you remove them incorrectly, you'll find yourself doubling your efforts a few months later when they re-grow in exponential numbers.
Identifying Suckers and Water Sprouts
By definition, a sucker is a vertical shoot that grows from either the plant's roots or stems where no buds are visible. Suckers that grow from the roots are called root suckers. Suckers that grow from the trunk or branches of a tree are called water sprouts. Each sucker is an identical clone to the parent plant. They are usually easy to identify by their leaves, which are often smaller and less numerous than those on a regular stem or branch.
Why Trees Develop Suckers
Many shrubs, including lilac, raspberries, and forsythia, spread by means of producing root suckers. Trees develop suckers for two main reasons:
As a reproductive strategy. For fast-growing, short-lived tree species, sprouting suckers is thought to be a sort of back-up reproduction strategy should the "normal" method of propagating (by seed) fail to produce offspring.
As a response to stress. Certain stressors trigger the production of suckers as the tree responds to what it sees as a threat to its survival. Heavy pruning is one example. Another is a tree that is in the process of dying. In an effort to survive, the tree sends out additional branches in an effort to produce more food (photosynthesis).
Fruit trees are often propagated through a technique called grafting-joining the shoot or bud of one plant (the scion), to the stem of another. As a result, they tend to produce a lot of suckers below the union of the trees. Grafting causes the original rootstock (the tree on the bottom) to try to compensate for the main species of tree growing above it. These suckers are clones of the rootstock, not the desired species, so they will never produce fruit.
Important Reasons to Remove Suckers
Suckers grow vigorously. If not removed, they end up "sucking" the vitality from the parent tree as they divert valuable food and water resources from parts of the tree that really need it. They can quickly ruin the aesthetic look of the tree. In the case of grafted trees (like fruit trees), suckers can drain the tree of energy and reduce its ability to produce fruit.
Removing Suckers
It's best to remove suckers as soon as they appear (before they reach the diameter of a pencil). The best way to remove them is to pull them out, not prune them. Cutting them off cleanly may actually stimulate re-growth, which will result in twice as many suckers as you started with. Pull off suckers as close to the branch as possible, being as careful as you can to not damage the surrounding tissue. Use a knife to scrape the area flat and remove any bud remnants.
Suckers growing from the base of grafted trees should be removed immediately as they will only serve to weaken the desired cultivar. Root suckers sprouting near the base of a non-grafted tree don't necessarily need to be removed. In fact, if you want more trees, this is an easy way to get all kinds of free sapling for transplanting.
If you decide to remove them, pulling them out by hand is the best option. If you can't do that, sever them from the tree using a shovel or mow over them with your lawn mower. If you wait until the trees completely leaf out in the spring (when food reserves are lowest) there will be less of a chance of re-sprouting.
Removing Water Sprouts
Water sprouts (suckers that grow vertically from a lateral branch) usually appear in smaller numbers and are often a result of some kind of stress (root damage, disease, drought, incorrect pruning, etc.). You can remove them the same way you would suckers (by pulling) but limit the number you remove at one time to avoid adding additional stress to the tree. If too many are removed at once, they'll just grow back. It's better to determine the reason the tree is sprouting them in the first place and try to correct the problem.
Preventing Suckers
Some trees will always naturally produce a lot of suckers. For those that produce suckers in response to stress, here are a few things you can do to minimize production:
Prune correctly. Heavy pruning, topping, and excessive thinning will almost certainly trigger the growth of suckers.
Keep your trees as healthy as possible. Apply fertilizer correctly (too much can weaken the tree) and create an irrigation schedule.
Use protective mulch. Damage to the roots can stimulate sucker growth. Mulch will discourage the growth of suckers by regulating temperature, conserving moisture, and protecting the roots from damage.
Take care when hoeing and planting around shallow-rooted trees. Any accidental wounds inflicted could trigger suckers.