Photo: Homemade Flagpole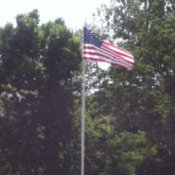 My grandsons are visiting me for several weeks this summer. Here is a picture of the flag pole Derek made for us while he was here. He found the old pole behind our garage. He painted the pole white, and attached a solar light on top. It looks so great. He is so handy and loves to make things. I will enjoy this for years.
By Dorothy W. from New Creek, WV
Feedback
Read feedback for this post below. Click here to post feedback.

By
07/21/2011
Wow! What a "great" grandson you have. He did a wonderful job. If he were near my house I would pay him to put one up for me. Adding the solar light on the top was a great idea as our flag has to be lit up at night.

By
07/20/2011
Thanks for the nice compliments. I am very proud of him. He loves to make things. His brother is a great fisherman. We had a great three weeks together.

By
07/20/2011
It looks just as beautiful at night with the solar light on top! What a great gift from your talented 16 year old grandson!

By
07/20/2011
What a wonderful idea to put a solar light on top and this is just adorable as well as patriotic! Thanks for sharing!
Post Feedback
Add your voice to the conversation.
Related Guides
Related Posts