Reusing Pet Food Bags
Pet food bags can be reused in a variety of ways including crafts. This is a guide about reusing pet food bags.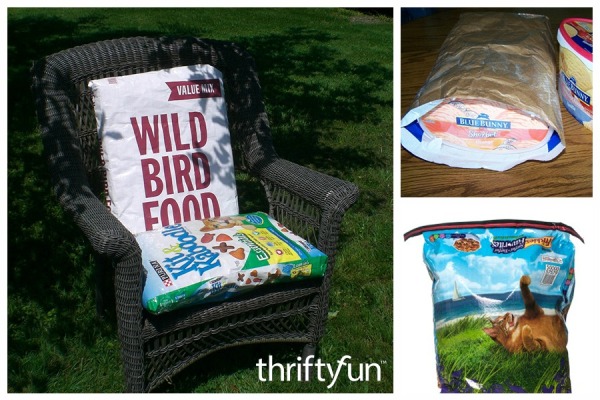 Filter

: All Articles
Sort

: Relevance
Instead of watching my outdoor upholstered pillows on my many chairs become faded and mildewed, I decided to stuff them into recycled pet food bags!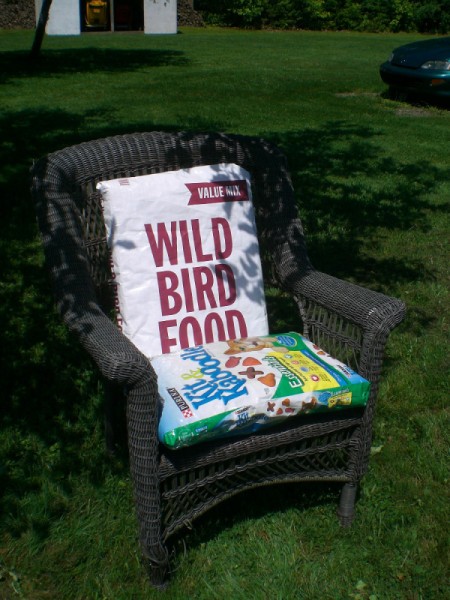 I simply used the waterproof bags like giant pillowcases and filled them with my aging, faded outdoor pillows, older bed pillows or blankets. I taped up the tops but if you are more energetic than I you could always whip stitch them closed pretty easily.
Great if you have any big waterproof bags from animal feeds or even grass seed bags!

What are some uses for cat and dog pet food bags? I used some pet food and litter bags this week as weed blocking plastic. I just pulled the bulk of the weeds, laid down the bags (with the bottoms cut out and opened) and covered with mulch.
Do you have any other ideas for using pet food bags?
Hardiness Zone: 6b
By C from USA
April 22, 2010
0

found this helpful
Best Answer
I use them in my big freezer to store food for longer periods of time, particularly when we are gone for 4 months during the winter. It adds extra protection for all my frozen foods, and I can get tons in the big 40 to 50 pound bags.
April 26, 2010
0

found this helpful
Best Answer
I use empty cat food bags to put wet cat litter in when I clean out the litter boxes. Every time I add more litter to the bag I sprinkle it with baking soda. I use the baking soda which was previously in the fridge or freezer. Reduce ~ Reuse ~ Recycle
April 27, 2010
0

found this helpful
Can't wait to use the pet food bags for putting used litter in! Great idea! I have some of the plastic style bags that are made of Duraweave. I love coming up with ways to use them; such as making bags, organizers etc, as they are so indestructible. The bird food bags are really pretty also and make gorgeous bags and items.
What can I do with the empty dry dog food bags?
By Joy from FL
December 13, 2011
0

found this helpful
Best Answer
Place card board products you are going to recycle like pop cases, cereal boxes, pizza boxes, etc. in bag.
December 14, 2011
1

found this helpful
Best Answer
Sew several bags together to make a "sheet" to go under a dog's bed clothes. Often animals lay on blankets that can get wet from the ground, etc. Just put this under the blankets and keep them dry.
December 13, 2011
0

found this helpful
I save the dog food bags and also the birdseed bags to store my newspapers in until I take them to the recycler.
Harlean from Arkansas
Sew a few bags together to make a 3 1/2' x 6' rectangle. It can be used as a moisture barrier under bedrolls or sleeping bags. A 7' x 6' rectangle can be folded in half to cover both the underneath and top of a bedroll; helps block moisture and wind.
Read More...
Ever since Purina began using of the large size polypropylene "DuraWeave" bags I have been saving them, certain a good use would arise and they would not go to waste. In particular, my first thought had been how well these might be used for sandbagging in flood situations, or passed out to victims of tornado or other disaster for salvage/clean-up efforts.
I now have roughly 500 of these, mostly the 16-18lb cat food size, but also a number of 25-33lb as well, and to my surprise, as yet have found no one interested in them. I have even contacted Purina in regard to this, and they knew of no outlets except that of their being a #5 recyclable material. Unfortunately in my location I have found no options unless I wished to pay for them to be taken for recycling. Anyone here have any good ideas along these lines?
By David
September 4, 2013
0

found this helpful
Best Answer
Have you tried Craig's list or freecycle! Either of these may have someone interested in the bags. Good luck!
January 14, 2014
1

found this helpful
Best Answer
Donate some to a local girl scout troop to make Sit-Upons.
Check terracycle.com to see if they are interested in them.
A scout troop can use them. Turn the edge over and install a drawstring. Very handy to keep camping stuff and firewood dry.
Insert an old bed pillow; baste closed. Put into and old pillowcase for a pet bed. Rescue organizations can use these in cages and kennels.
April 10, 2016
0

found this helpful
I don't really know if this would work but, When you go to reroof your home put the plastic bag next to the tar paper that's over the plywood then put the asphalt shingles over the bag. Seems to me this would be extra leak protection for your roof.
If you buy pet food, feed, or flour/sugar/salt in large bags, save those bags when empty. They are just the right size for a kitchen trash can and are very sturdy - more so than the plastic trash bags.
We usually empty 2 large bags a week that I recycle into trashcan liners. That is a savings of 104 trash bags a year, which amounts to several dollars. (In my area, at the store, a bag of 20 trash bags is $4.98).
I save smaller bags for the bedroom and kitchen wastebaskets.
By mom-from-missouri from NW MO
I always keep newspaper under the litter boxes in case of "accidents". I found by cutting off the bottoms of the food bags, washing them and laying them flat; that they work well under the newspaper to keep any moisture away for the flooring.
Read More...
I am a volunteer taking care of stray cats, so I buy 12 bags or 18 lbs of cat food a week. I use all the empty bags to build shelters and food stations.
I am looking for empty pet food bags to make recycled totes in the SE part of Wisconsin. I am especially looking for large Pro Plan bags. Any suggestions?
March 24, 2016
0

found this helpful
There are plenty of feed mills in Wisconsin. Go to www.yellowpages.com.
April 5, 2016
0

found this helpful
You can ask your local animal shelter to save them for you or put a flyer up at veterinarian office.
July 9, 2016
0

found this helpful
I have atleast a dozen Purina pro plan and true instinct dog food bags. Maybe more in the attic. Let me know if you're still looking for some.
Related
© 1997-2016 by Cumuli, Inc. All Rights Reserved. Published by
ThriftyFun
.
Page
generated on September 24, 2016 at 11:07:02 PM on 10.0.2.17 in 4 seconds. Use of this web site constitutes acceptance of ThriftyFun's
Disclaimer
and
Privacy Policy
. If you have any problems or suggestions feel free to
Contact Us
.