I have a brand new Berber carpet, it's off-white. I knocked over a can of lime green paint and got it all up. I steam cleaned the carpet but there is still a slight greenish tint. I scrub brushed it, tried to bleach a spot, all to no avail. Can anyone help. I just bought the carpet and I am very annoyed at myself. Thanks.

Janet from PA.
Ad
---
Recent Answers
Here are the recent answer to this question.

By LB (Guest Post)01/13/2009
I recently missed placing my drop sheets properly over the carpet (light grey) while painting. I asked friends & family for suggestions and tried the following 2 methods:

1: I used a pressure steamer to break down the latex paint and scrubbed. This worked OK except that it also removed some of the carpet strands.

2. BEST METHOD. I used liquid TSP diluted with a bit of water (test in an inconspicuous area first) and let it sit. After it broke down, I scrubbed it with a bristle brush and it came out perfectly. To remove the TSP residue, I used a home carpet steamer with plain water until it returned clean water only. That area looks a bit more worn than the rest of the carpet but WAY better than if the stains were still there.



By Cynthia (Guest Post)11/30/2008
Saw a different post in here and the people said to try barbasol shaving cream.

By Bobbi (Guest Post)08/11/2008
I have a light brown color carpet and my dog got into some green paint we had hidden behind the shed and came into the house marking up the carpet. I used warm water with oxy clean and blotted it up. This truly work for us. Take a soaked clothe with the solution and blot deeply and with some paper towels blot it out. It comes up easy.

By Amy (Guest Post)05/22/2008
I got brick red paint out of a off white berber carpet using only rubbing alcohol and a lot of muscle! It took a lot of blotting and a little rubbing with a lot of alcohol and I had to do it several times, but the carpet is back to normal!

Good Luck!

By (Guest Post)02/25/2007
Try fairy washing up liquid and water on a cloth might help.

God bless.

By Emmett (Guest Post)07/07/2006
I have paintball stains on my carpet and i can't get them out!!!Can anyone help at all???

By Janet from PA (Guest Post)06/19/2005
Thanks, I will try a test run on extra scraps that I have to see if it hurts the carpet.

By (Guest Post)06/11/2005
Professionals may be able to replace just the area the spot is in. It may be the only resort other than replacing it all.

By Marilyn (Guest Post)06/10/2005
Never was able to get the paint out, but wonder of wonders, my homeowners insurance paid to replace it (except for the deductible)

By Marilyn Otte (Guest Post)06/09/2005
I don't know that I would put nail polish remover on my carpet? I know that rubbing alcohol will remove dried on paint and so does plain ol' vodka. Just put some on a sponge and sponge it on and rinse it off. Repeat until stain is gone.

By kattankerous06/09/2005
Hey, my husband said watered down paint thinner. Which is what nail polish remover is too i think. Anyways read the bottle/can first to make sure it doesnt do anything to the carpet and/or glue that holds it together.

By kattankerous06/09/2005
Have you tried a weak solution of fingernail polish remover??? Now this is just a suggestion... i dont know if it will work. And try it in a very conspicous spot, very small spot first. Call a carpet store and ask them first.
We have light berber with the mixed colored fibers and spagetti got spilled in it. I got it all up by cleaning with dawn dish soap and carpet cleaner. Then i could still see it , so someone told me about peroxide in spray bottle with water. This took it all out. But i dont think it will help with paint. But you could try it. Only thing is, i didnt realize my carpet was dirty and so that spot was cleaner when i got thru, LOL, so i had to clean the rest.

Let me know what works.

~kat
Questions
Here are questions related to Paint Stain on Light Colored Carpet.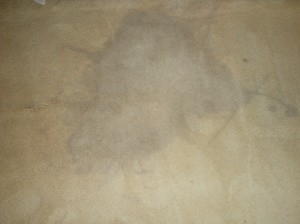 I have a paint stain that is set in my carpet! Please help me on what to use on the carpet to get it clean. What is the best thing to use?
By Jean
---
Most Recent Answer

By Laura [2]06/25/2011
A friend of mine is a professional carpet cleaner and he uses odorless mineral spirits to remove paint from carpet. You can buy it a a hardware store. Dab it on/off, don't rub and make sure you dispose of properly as not to cause spontaneous combustion.
I was painting with red wood stain/paint and spilled it on a cream color carpet. How can I get the stain out of the carpet?
By Carol
Answer This Question
Add your voice to the conversation. Click here to answer this question.