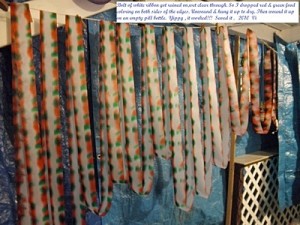 A bolt of white ribbon got rained on and I thought it was ruined, but being frugal, I ran water over it to clean it off. I then dropped red and green food color on both edges of the rolled up wet ribbon. I unrolled the ribbon and hung it up to dry. My colored hands were back to normal the next day, LOL. When it dried, I rewound the ribbon on an empty pill bottle. It is good as new. Here's a picture of how it turned out.
GG Vi
By Great Granny Vi from Moorpark, CA
Ad
---
Feedback Forum
Feedback about this article is posted here. Want to contribute? Click above to post feedback.

By Mary Lou [14]01/06/2011
Great idea, may try a strong Koolaid and hot water mixture to see if it works as well.

By Vi Johnson [237]01/03/2011
Bow made with food coloring dye GG Vi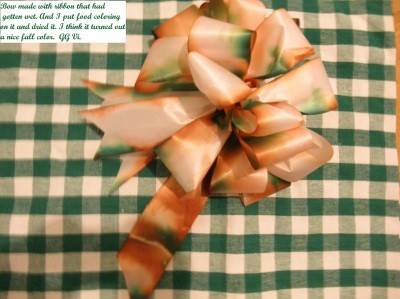 Post Feedback
Add your voice to the conversation. Click here to share feedback.