Dog Fur Problems
If you have dog fur problems, buy sticky rollers and roll it on the dog. It does not hurt them, and it cuts down on vaccuming up fur.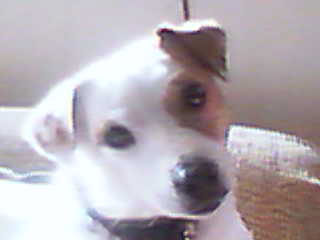 By Lynda from Warrenton, MO
Feedback
Read feedback for this post below. Click here to post feedback.

By
05/06/2010
My lab mix sheds a lot this time of year. When I brush him, the fur starts flying, so I too use a lint brush, but I use the kind you reuse. The fur comes out in one hand with the de-shedder brush, and gets picked up with the lint brush in the other hand. When both are full of hair, I clean them out and keep going! It is much cheaper than sticky rollers, and does not hurt or scare him.

By Victor (Guest Post)
12/08/2008
Hi, my dog is a German Shephard, he's 8 months and he's been losing his fur, please what can be the cause?

By
06/30/2006
I have a long haired dog and the best thing I found was a Undercoat Rake. You have to use it outside but it works wonderful. I think it only cost about $5 and I have already saved that in the energy and time it would take to vacuum all that hair!
Variation
Do you have a variation to share for this page?
Shirt to Contain Dog Fur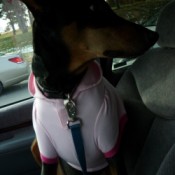 I have two short haired dogs; one is a Doberman and one is a Min Pin/Pug mix. I like wash and wear dogs, they are easy to groom but all dogs shed. I found that putting my dogs in children's sweatshirts (with the arms cut off) in the house really keeps the hair situation manageable. The dogs wear children's t-shirts in the summer.
I take the shirts off and throw them in the dryer on air fluff. Since my dogs are inside dogs, you would be surprised at how much cleaner your furniture and floors stay. The shirts are no problem with my dogs; they don't mind at all. I would suggest with a new puppy, get them used to wearing these as soon as possible. You won't be sorry.
By Mary from Omaha, NE
Was this solution helpful?
Questions
Do you have a question related to this page?
Post Feedback
Add your voice to the conversation.
Related Guides
Related Posts