106 Ways to Save in the Kitchen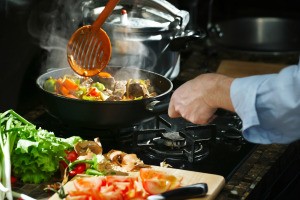 There are numerous ways you can save money with regards to your kitchen including reducing the cost of food, eliminating the use of disposable items such as paper napkins, growing a veggie garden, and more. This page contains several essays that outline 106 ways to save in the kitchen.
3 Solutions
Share on ThriftyFunThis page contains the following solutions. Have something to add? Please share your solution!

I don't buy paper products such as napkin, paper plates, paper cups or paper towels. I use "real" products and wash them.
I plant the largest garden I can manage and harvest a much food from it a possible. This includes several types of beans, corn, tomatoes, watermelon, squashes, okra. I then can and freeze what we can't eat during the garden season for the winter and next spring. We also have an orchard with various fruit trees, a small vineyard, and blueberries.
We try to grow our own meat; this includes beef, fish (in our ponds), pork and poultry.
I have my own chickens and ducks for eggs. I sell the excess eggs. During nice weather, I let the birds free range (eating worms, bugs.) and save on feed.
I watch Freecycle and Craigslist for free or inexpensive kitchen items. I have obtained numerous items this way including a canner, jars, flats and seals, kitchen gadgets, recipe books and even food (a case of soup once-lady bought it by the case then found out she was allergic to one of the ingredients).
I shop Aldi's and bulk stores when I can. The best bulk stores I have found to date are the Amish ones. I can get oatmeal, flour and spices in bulk (up to 50 lbs bags) for way less than in the regular grocery stores. I store what I am not using in the deep freeze to keep fresh and bug free.
I bake our own breads, cakes, pies.
I take note on food dates and rotate them as necessary so that they do not go out of date.
I freeze leftovers for future lunches or meals.
I pack my husbands meals for work.
I make 'scrap soup'. I have a large container in the freezer that I put leftovers of all meats and veggies in. When it is full, I dump it into the stockpot and cook it down for soup. Usually I have to add either beef stock or tomato juice as a base. Sometimes I also add rice or noodles. It is always good, but since leftovers vary, it rarely tastes the same twice.
I will confess, I am a baggie washer.
I wipe off used foil and put it in my husbands BBQ locker. When he needs it on the grill, he uses this foil instead of new foil.
I save the wax bag liners in cereal boxes. They are great for rolling out dough on, or putting cookies on to cool.
I buy limited amounts of cereal. For breakfast we usually eat eggs or oatmeal. Less sugar and less expensive.
We make our own potholders from fabric leftovers or from old socks - just cut them into loops (yes, that is what potholder loops are made out of!). We also make our own placemats (good sewing project for teaching beginner sewers).
We buy high end appliances for less than the normal costs because we get them at the scratch and dent. You get the same warranty. What difference does it make that the refrigerator has a scratch on the side when it is slid into the cabinet and you can't see it?
I make our own ice for events instead of buying it at $2.19 a bag.
We make our own ice cream and popcicles. I also make my own "shake and bake" and dressings.
I save yogurt containers and such instead of buying the more expensive tupperware containers.
I buy generic on most items, but I also make sure they will be eaten. For example, DH won't eat generic peanut butter on his sandwiches, but he will eat peanut butter cookies with generic peanut butter. So, I buy a small jar for him, and the large institutional size for baking and cooking use.
I try to combine coupons with sale items, but I also compare this price to the generic prices.
I keep my kitchen CLEAN to avoid sicknesses caused by improper food handling. I have one cutting board just for meat use and it gets cleaned with bleach. I run vinegar with every load of dishes for a disinfectant.
I try to bulk bake and bulk cook, then freeze items if need be.
When cooking during the winter months, I can turn down the heat a few degrees. Usually when I bake, the kids are all gathered in the kitchen anyway (playing a board game waiting for bowls to lick) and the stove keeps us warm.
I don't use a food coop (because I don't want to pay the fees), but I have friends who do, and I can sometimes split items with them (such as a 100 lb bag of flour, or 25 lbs of pecans). Also, since some of them get a rebate at the years end based on how much they bought, then are more than happy to buy an item or so for me when I ask them to (yes, I pay them for it).
I don't buy junk food or soda. Yet, we still eat snacks. We make cupcakes, popcorn and our own potato chips. I don't buy chips, candy, gum (grandmas do that for me!)
I wait till the dishwasher is full to run it.
I turn off my oven, or burners several minutes before my item is done cooking. Most items will continue to cook in the heat already generated.
All my kitchen lights are CFL or LED bulbs to save electricity.
Kitchen scraps are given to the animals (chickens love them) - helps save on pet food and feed
I cook from scratch, and I bake from scratch.
I use our crockpot and microwave a lot - saves energy over the stove and oven.
Take advantage of "free" foods, such as nuts, wild berries, mushrooms. Just be sure you know what they are, if they were sprayed, and if it's not your land, get permission.
We grow our own herbs and sprout our own sprouts for salads. This is one of my kids projects.
Source: Just ideas I have done throughout the years.
By April from NW Missouri
Editor's Note: Follow this link to see the second part of the list.
Do you have a frugal story to share with the ThriftyFun community? Submit your essay here: http://www.thriftyfun.com/post_myfrugallife.ldml
Comments
Read More

Comments

Try to use resealable and reusable containers instead of foil, Saran wrap and such. I make my own "convenience items" such as hamburger helper and cookie mix. Then when its busy, we get those out and just add the last remaining wet ingredients, and bake.
Read More...

Don't grocery shop when you are hungry. Don't grocery shop at convenience stores or drug stores where prices most likely will be higher.
Read More...
Categories
Pages
More
Categories
Published by ThriftyFun.
© 1997-2022 by Cumuli, Inc. All Rights Reserved.
https://www.thriftyfun.com/106-Ways-to-Save-in-the-Kitchen.html