1st Birthday Hat and Diaper Cover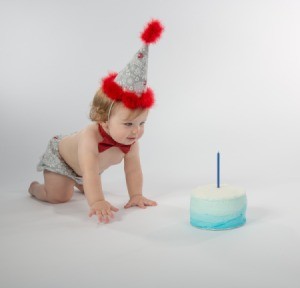 I made this cute matching diaper cover and party hat for my son's 1st birthday photo shoot. I decided to make my own after I could't find one that I liked online.
Supplies:
party hat template
diaper cover pattern (or bloomers for baby dress)
fabric
feather trim (or other trim)
pom pom, optional
thread
scissors
hot glue gun
elastic
spray adhesive
Steps:
Print hat template on card stock. Cut out. Using spray adhesive, glue the template to the wrong side of the fabric. Trim excess fabric off, leaving enough fabric around the edges of the template to wrap the fabric to the inside of the hat.
Snip the fabric around the curves of the hat and glue them to the inside of the hat.
Fold fabric along the straight side to the inside and glue in place.
Remark the overlap line onto the inside of the hat. Apply hot glue to this area and bring the other side of the hat around to create a cone shape. Hold firmly until glue is dry.
Apply glue to the edge of the hat and adhere the trim.
Fold a small length of feather trim in half and wrap tape around the ends. Insert the taped end into the small opening at the top of the hat. You can add a small amount of hot glue from the inside to help hold it in place.
Place the hat on your child's head and measure from one side, under their chin, to the other side. Cut a piece of elastic the appropriate length to hold the hat onto their head. Apply glue to the inside edge of the hat and sandwich the elastic with a small piece of fabric. Repeat on the other side.
For the diaper cover, I used the bloomers portion of an infant's dress pattern. I made it using the same fabric as the hat. For a girl, you could add lace trim or a bow. My son wore the hat again at his birthday party. :)
Add your voice! Click below to comment. ThriftyFun is powered by your wisdom!
Related Content