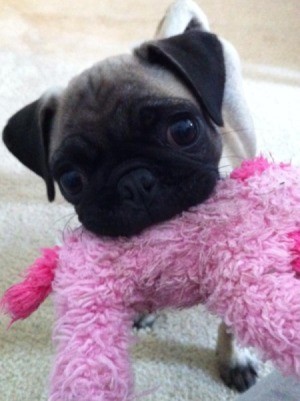 My sweet Pug Audrey died yesterday at the age of three and I am so heartbroken. She was so sweet and young I just don't understand why she was taken from me and my 12 year old daughter. When hurricane Matthew came through Florida Audrey showed signs of stress. She was panting and shaking. I comforterd her through the night and she seemed to get better over the next few days. I noticed she wasn't eating as much as usual and thought she would be back to her normal self soon. She was happy and playful as usual.
Then one day about a week later she stopped eating completely. The very next day she started vomiting. I fed her soup and water through a syringe. She was keeping the liquids down and I felt confident she was going to be OK. I laid around with her all day to make her feel better. She was emotionally alert just seemed like she had a cold. I noticed she sounded a little congested. Later that evening I noticed her heart racing and she was panting heavily again like when the hurricane came through. But the heart rate was very rapid and I could see it through her chest. It almost looked like she was shaking, but it was her heart beating so fast. I prayed for her to make it through the night. I played some music for anxious dogs and held her like a baby while we slept through the night.
Upon waking I was going to take her to the vet if she wasn't better. She was a wet noodle when we woke up. Her head was flopping from one side to the other. Her eyes looked like they had a blue haze over them and she was devoid of emotion. She looked empty. Her tongue fell out of her mouth. Her legs started running while my daughter was holding her like how dogs run in their sleep. Right after that she died.
We are at such a loss for why she died. It happened so suddenly. I don't know if the hurricane coming through was just a coincidence or what. Prior to all of this she was perfectly happy and healthy as far as I know. Anybody have ideas why she might have died? I am consumed in grief. She was my baby. I didn't work or go out much. We did literally everything together. She helped me through so much and I am in complete shock and disbelief that she is gone forever. Thank you.