8 Ways to Make Mowing Your Lawn Easier

EllenB
Gold Post Medal for All Time! 858 Posts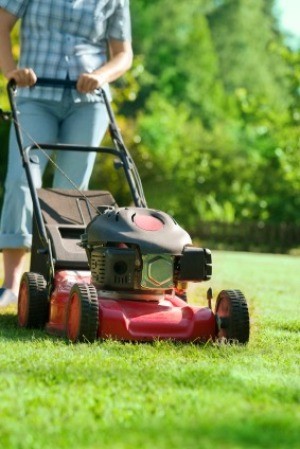 Making lawn mowing easier means establishing a simple routine that gets the job done as quickly and efficiently as possible. Here are 8 ways to simplify the process.
Streamline your path. Make sure there is enough space to mow between the obstacles in your lawn. If you can keep items like birdbaths, bird-feeders, and benches confined to your planting beds you won't have to mow around them. Likewise, installing beds along the borders of your property or up against a fence is the ideal because you won't have to mow around more than three sides.
Prune low-hanging branches. Having to constantly duck your head every time you pass near a trees lower branches is a waste of your time and energy. Take a look around your yard. If a trees lower branches constantly interfere with your mowing path consider pruning them. Now only will thinning a few lower branches allow you to mow more efficiently, it will also allow more sunlight to reach your grass.
Control your clippings. As you mow, keep the discharge chute of your mower directed toward the lawn. That way you have to go back and sweep up grass clippings from the sidewalk and driveway when you are done.
Mow when its dry. Lawnmower blades tear wet grass instead of cutting it cleanly. For the cleanest, healthiest cut, mow your lawn when the grass is dry. Wet grass also has a tendency to lean over, which can end up making your mowing efforts look uneven after it dries.
Dont mow too short. Every time you mow you are essentially sending your lawn into shock, cutting down its ability to manufacture food. Mowing your grass too short actually stimulates faster growth and causes the grass to redirect all of its energy towards growth in order to recover. That means more mowing for you - at least temporarily.
Overlap as you mow. As you cross the lawn with your mower, overlap the edge of your previous cut by 3 to 5 inches. This will give the mower a second chance to pass over any uncut grass that was flattened under the mowers wheels and will eliminate the need to go back and fix things later on.
Clear obstacles before starting. Remove any movable obstacles from the yard before you start mowing - toys, lawn chairs, sticks, and stones. Place them on a sidewalk or driveway where you won't have to worry about moving them again until you are finished.
Round sharp edges. Sharp turns are hard to make with a lawnmower. They often force you to stop, back up, and take another pass - a big waste of your time. If you have a lot of beds and borders with straight sides or sharp corners, try to round their edges for easier mowing.
Plan for the Future
When making future changes to the layout of your yard and garden, try to keep your mowing needs in mind. Avoid building new obstacles into your mowing path (e.g. island beds, individual trees and shrubs) that you will constantly have to maneuver around. Plant trees and shrubs on the perimeter of your yard and keep the bulk of your lawn as open and accessible as possible for mowing.
Published by ThriftyFun.
© 1997-2021 by Cumuli, Inc. All Rights Reserved.
https://www.thriftyfun.com/8-Ways-to-Make-Mowing-Your-Lawn-Easier-1.html