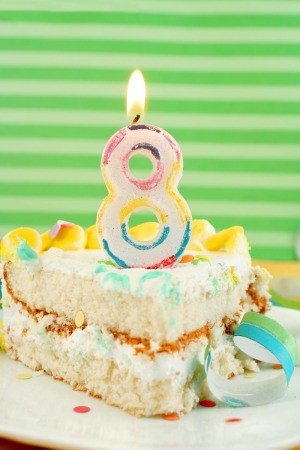 My daughter is having 8th birthday party in April. She is a horse lover, but her friends (she is inviting to the party) do not share her passion. I would like some games and activity ideas for the party at home.
Thank you,
Lucy from Surrey, UK
Answers

March 2, 2007
1

found this helpful
Best Answer
Try a scrap booking party, use a digital camera or a polaroid camera to take pics of the kids and magazine clippings of some of their fave. things Like horses for example. Some glitter pens and some stickers and some cheap notebooks or scrap paper tied together with ribbon, and the party should be a lot of fun.
Good luck
By (Guest Post)
March 5, 2007
1

found this helpful
Best Answer
My daughter is also just turning 8 and we are having an "It's great to be 8" party. The invites are in the shape of the number 8 and I adapted all the games around the #8. For example, I did a big jar of sweets and they have to guess how many are in the jar.
the answer has at least 1 numeral 8 in it. We did a cake walk and all the numbers had 8's (18, 28, 88 etc.) The birthday cake is just small donuts on a plate stuck together with a toothpick to look like an 8. Anyway, you get the idea. Good luck!
By GreatIdeas (Guest Post)
May 24, 2008
0

found this helpful
Best Answer
I think you could do a horse theme, like pinata. Fill it with sweets subtle for all, if she has any friends that do not eat pork, don't, go for gelatin ones. Why don't you try a girly makeover place, it's called 'Girls just wanna have Fun' and they go to your house and set up stuff, I've had it done to my friend, it was really cool!
Answer

this Question

My daughter is turning 8 on 8/8/08 and we'd like to do something special or memorable for the event. Any ideas? She is in to Littlest Pet Shop so we were using that theme, but would like an idea on how to make this birthday especially special.
Nancy from Nokomis, IL
Answers
By debbie (Guest Post)
June 16, 2008
0

found this helpful
Best Answer
How about a craft party, My daughter and friends made picture frames from craft foam, then take a picture of each child with your daughter so they can have it to go in their frame then take a group photo for your daughter for her frame. Since Littles Pet shop is your theme you can get little pet stickers to add to the frames, The girls will have a ball making them and also have something that isn't candy or sugarry to take home
By Nancy Mickelson (Guest Post)
June 17, 2008
0

found this helpful
Best Answer
When I turned 8 my mother made me a figure 8 birthday cake. Just get two round cakes and use a
glass or bowl to make a circle in the center of the cakes. (frozen cakes cut well) Cut out the centers of the cakes. Put the two hollow circles together to form a figure 8.
You may want to trim a little bit off the sides of the cakes to make the circles join up better. Then frost the figure 8. Since your child's birthday is on 8/8/08 you could make three 8 cakes.
By Susie Q (Guest Post)
June 17, 2008
0

found this helpful
Best Answer
My husband and I purchased a set of twelve colorful plates, bowls and cups at our local IKEA store. It cost about $15 and we use it at every birthday party for each of our children. It saves us about $50 worth of throwaway themed party items. No one even notices that they are gone and the money goes to better use.
I used to cook for parties but found that buying cheese pizzas at the local pizza parlor ended up cheaper in the end and the kids ate more. I also learned how to make an ice cream cake from a friend. Buy several containers of whatever is on sale and several packages of generic oreos or any other type of cookie.
Melt the ice cream slightly and spread in your lasagna pan. Crush cookies in a bag (I don't have a food processor) and layer them. Freeze. Repeat until full. Then dip the bottom in a warm sink to loosen and flip over onto a foil covered cookie sheet. Freeze. Cover in cool whip. Freeze.
It takes a little time but it is small chunks of five minutes or so an can be done weeks in advance. It also costs around $10 which is better than any grocery store, bakery or wal-mart even. And the guests love it!
Answer

this Question

My daughter is turning 8 at the end of July and she has had a pony party, a princess one, and a clown theme before. I am clueless this year on what to do. Any ideas?
By BELGICA from CA
Answers

Louise B.
Silver Feedback Medal for All Time! 337 Feedbacks
May 28, 2010
0

found this helpful
Best Answer
Why don't you ask your daughter what she would like? Perhaps she has some good ideas too.

May 28, 2010
0

found this helpful
Best Answer
You could have a fairy party and let them make fairy houses,and find "fairy" treasures that the fairies left. Or you could do a luau, that's what my 10 year old is doing, complete with coconut bra's and grass skirts. We are all looking forward to it.
Last year we had a "pool party" for her birthday, one year we had a camp-in for her party. We never did the princess, fairies are as close as we came. We always try to include some sort of craftsy thing for all the kids to do.
Answer

this Question
My daughter is a horse lover. She wants to have a fabulous birthday party; what should I do?
By Michelle from Springfield, PA

Answers

December 3, 2017
0

found this helpful
Can you have it at a riding stable? Many in my area have party packages. Or maybe have someone bring a horse or pony the kids could ride?

Judy
Gold Post Medal for All Time! 677 Posts
December 4, 2017
0

found this helpful
Take her to a riding stable with a few friends.
Answer

this Question