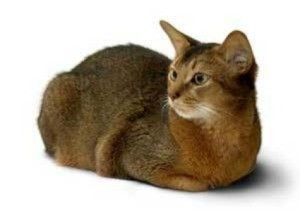 Breed Description:
The Abyssinian is one of the oldest know breeds of cat. In appearance, this breed has a slightly wedged head, beautifully arched neck, large ears and large, almond-shaped eyes. Its medium length body is strong and muscular, yet lithe and elegant. It has a fairly long tail and almost disproportionately slender legs ending at tiny oval paws. The long-haired version of this cat is the Somali.
History & Origin: The exact origin of the Abyssinian remains controversial, but many sources trace the breed back to the late 1800s and a cat name 'Zulu'. It was though that the cat may have been brought back from Abyssinia by some British soldiers who were deployed there during the Abyssinian War.
Character & Temperament: This breed has been described as willful, intelligent and extroverted. Although not particularly vocal, these cats are extremely affectionate and love participating in family activities. Abyssinians are fast, fearless, and they worship the sun. They are also gentle, playful, and inquisitive and they prefer a considerable amount of room.
Colors(s): Abyssinians come in several recognized colors developed from their original "ruddy" or "usual" coat color including ruddy, sorrel, blue, fawn, silver, tortoiseshell, red, and cream.
Coat Type: Shorthaired cat; the Abyssinian's coat is dense and very soft and silky to the touch.
Grooming: They generally need very little grooming, but benefit from a daily comb. When they are shedding, massaging them with a rubber mitt will help remove loose, dead hair. Claws should be trimmed and ears cleaned only when necessary.
Health Considerations: Some Abyssinians are vulnerable to anesthetics, teeth problems and progressive renal atrophy.
Trivia: Some speculate that due to Abyssinia's proximity to Egypt, Abyssinian cats might be directly descended from the sacred cats of the ancient Egyptians. The cats do bear a striking resemblance to some of the mummified remains and hieroglyphics found in ancient Egyptian tombs.