April 9, 2012
1

found this helpful
Best Answer
I use albums that have clear vinyl pockets that hold 4x6" photos. When I have smaller photos I can put 2-3 in each pocket. I used to use the ones that sound like what you discribed and when I wanted to switch albums, I had an awful time getting some of them out, because they stuck to the pages.
April 10, 2012
0

found this helpful
Best Answer
Digitally is great, as suggested. I scan mine, then keep them in folders by person, groups, etc. They are my screen saver, and I also back them up on an external hard drive and DVDs. If you have a really great editing software like Paint.net or the one on your scanner, you can get a great quality as well as send them to others at a moment's notice.
I included a shot of my friends dog so you can see what I mean. It's a bit time consuming, but it's all worth it in the end.
I hope these all help.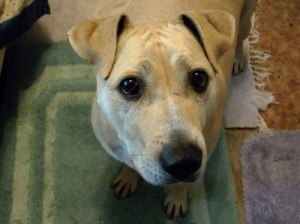 July 10, 2012
0

found this helpful
Best Answer
The best albums for prints are the kind with pockets, but not vinyl pages, as the PVC is not archival and will eventually damage the photos. A company named Century Photo makes pages of polypropylene which is safer for long term storage. There are many page formats available, for different sizes of photos, including 3x5, 4x6, 5x7, 8x10, etc.
They also sell albums in different styles, sheets for negative storage, and other accessories. I really like their products, and, no, they aren't paying me to endorse them! :-) I pasted the url for their website below.
I hope this helps. The "magnetic" pages from the 70s and 80s really were bad for our photos, so I converted my old albums to the poly-pocket type in the 90s.
April 10, 2012
0

found this helpful
You can download the to an ipad and view them where they will never get damaged ;)
April 12, 2012
0

found this helpful
Beautiful photo boxes...got mine at Ross, a discount store here in Dallas. Different sizes, colors, styles, etc. I placed it on a shelf in the den with greenery around it. Easy to get to and holds lots of photos.
July 24, 2012
0

found this helpful
A while ago, I saw a teacher cover her classroom door with photos as students brought them in. By the end of the year, the door was totally covered, front and back. It was very cool and many people were able to look at them.
This gave me an idea to make large collages for inside a poster frame. I haven't started this project yet, but suspect I will soon. I may cover an entire hallway wall with them. Just an idea for you.
June 9, 2016
0

found this helpful
I took all pictures out of the albums and stored them in photo boxes. each box is labeled with which pictures are in them, family, vacation, etc. The boxes take up less space and hold many more photos then albums. There are also dividers in the boxes so you can store and separate groups in one box.