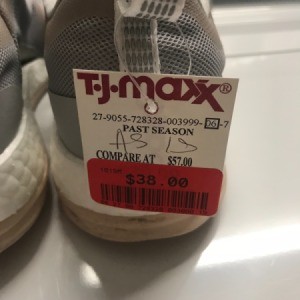 I shop at TJ Maxx or Marshalls for past season sneakers because they are always 50%+ off from retail price.
I fell in love with these Adidas Pure Boost Sneakers. They are very comfortable, soft, and I can see myself running in these. I did see some minor flaws - a stain on the mesh, stain on the back sole as well as a dent in the foam back sole. These sneakers were marked $39.99 at TJ Maxx's full price.
At check out, I asked if there can be any discount given (due to the areas) and the cashier agreed then asked her manager. The manager offered $38 even and suggested I could clean it at home, if not - I can bring it back for a refund. She changed the tag and marked As-Is.
It doesn't hurt to ask for a discount. What made me happy was when I got home, I researched the sneakers and they're still being sold on the Adidas website for $78, originally $130! Not only was I able to get a small discount, but I was able to get these sneakers for fractions less. :)